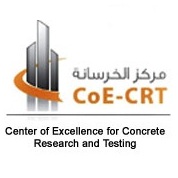 King Saud University's Center of Excellence for Concrete Research and Testing (CoE-CRT), in cooperation with the Saudi branch of the American Concrete Institute (ACI), recently held preparation courses for technicians, supervisors, and inspectors wishing to obtain ACI Certification.
Between May 22nd and May 30th, engineers and technicians attended a course for Grade I certification for field testing technicians, conducted by the Riyadh branch of ACI. Grade I certification requires individuals to know international standards for materials, products, systems and services used in construction, manufacturing and transportation. In addition to a written test, Grade I certification depends on passing a performance examination.
Between May 31st and June 3rd, sessions were held for individuals wishing for certification as a concrete construction special inspector. This certification qualifies one to inspect concrete quality and ensure building codes during construction operations, and successful candidates must show a knowledge of concrete construction regarding methods, weather conditions and design. Obtaining certification requires engineers to hold Grade I certification, and entails passing a written and reading test.
Courses addressed important concepts and terminology and theoretical topics related to each test certificate, while the program included a session that discussed some of the articles recommended by the American Concrete Institute for preparing for the tests.