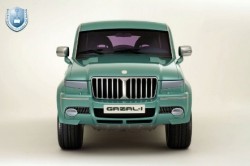 King Abdullah hosted a large contingent from King Saud University (KSU) and the Ministry of Higher Education (MOHE) yesterday in his Jeddah palace for the unveiling Gazal 1, the first car to be engineered and manufactured by Saudis.
The creation of Gazal 1 is one of King Saud University's most ambitious projects to date, and developed by a team of KSU student-engineers, who designed the car with the unique and diverse terrain of the Arab Peninsula in mind.
Ghazal-1, which is 4.8 meters (16 feet) long and 1.9 (6 feet) meters wide, has been patented by KSU and all intellectual property rights are in the University's name. It is estimated that 20,000 cars will be produced per year.
The unveiling was attended by Saudi Minister of Higher Education, Khalid Al-Angari and King Saud University Rector Abdullah Al-Othman, Vice Rector for Graduate Studies and Scientific Research Prof. Ali Al-Ghamdi and various University deputies.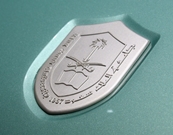 Indeed, ambitious projects such as this at King Saud University would not possible without the personal commitment and financial support of His Royal Highness King Abdullah bin Abdulaziz Al-Saud, and he naturally received ample words of gratitude from Ministry and University officials.
Rector Al-Othman expressed his deep gratitude to the King for his support, saying that the unveiling of this automobile illustrates the great progress that Saudi Arabia has seen during his reign. The Rector cited the arrival of Gazal-1 as a pivotal point in the Kingdom's history, as it shows that Saudi Arabia has "capable people who can transform ideas into products of high economic value."
Dr. Al-Angari, in his speech, identified Gazal-1 as proof that when provided with adequate facilities and given opportunities, young Saudi engineers can excel in innovation and invention.
The King was shown presentations explaining the various stages of the project and the car's production; in addition, he viewed pictures and detailed paintings describing the project and was given a detailed account of the impressive features of Gazal-1.