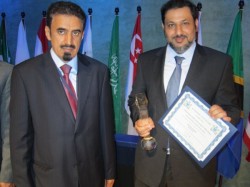 The 2010 Winners of the United Nations Public Service Award (UNPSA) King Saud University (KSU) were awarded a United Nations' award for excellence last week for improving the delivery of public services. Presented by the UN General Secretariat of the Economic and Social Affairs, the award was accepted by King Saud University Rector Abdullah Al-Othman in a ceremony in Barcelona, Spain.
The honors recognized the University's development of a effective e-learning system for education, utilizing and interconnecting information technology (IT) to enhance the learning process. The e-learning system incorporates the Internet, new educational techniques, SMART technologies such as interactive whiteboards, videoconferencing for lectures and DVD series. One of the e-learning program's strengths, in particular, was its innovative and efficient management and support systems. KSU took top honors by excelling in four criteria set by the UN: strengthening transparency and accountability, improving service delivery, effective use of government information and communications technologies and enterprise information management within the government.
Vice Rector for Development and Quality Dr. Hamad Al-Sheikh said the award was given for the KSU's untiring pursuit of innovation in the area of public service, and he stressed that this international recognition for excellence is a great achivement of University, which is the first Saudi university to achieve such a distinction.