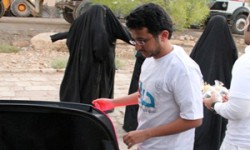 King Saud University students were part of a volunteer medical emergency team that served during the final 10 days of the holy month of Ramadan in the holy city of Medina.
In a project designated as "The Humanitarian Journey," KSU students joined forces with the Saudi Red Crescent Authority, one of the Middle East's foremost humanitarian organization. Supervised by Dr. Aayard R. Al-Qahtini, the male and female volunteers provided pre-hospital first aid and life support assistance to troubled pilgrims.
"The Humanitarian Journey" was initiated and organized by Dr. Fahad Abdulmusin, director of KSU student affairs, the objective being two-fold: cultivating a spirit of volunteerism among KSU students and enhancing university's role of community service in the Saudi society. Dr. Abdulmusin was encouraged by the project's success and expressed his appreciation to both the participating students and the Red Crescent Authority.