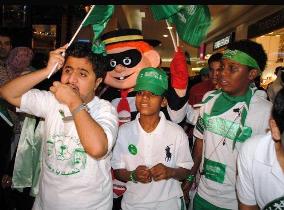 King Saud University's MojTam3E Club, a student organization devoted to volunteerism, recently took part in the Autism Families Association's Saudi National Day celebration at the Riyadh-Gallery Complex.
The event, a celebration of the Kingdom's founding on September 23, 1932,  featured various activities for children and included patriotic poems by young Saudis such as Mouhanna Al-Otaibi and Leen Al-Otaibi.
The ceremony highlight was a patriotic parade that included 150 autistic children and their friends. The parade, organized by KSU volunteers, was led by KSU student Abdul-Aziz Al-Zouman. The parade was followed by a theatrical performance for the children, a presentation organized by Ms. Taghreed Al-Anzi and performed by her student volunteers.
Princess Samira Al-Faisal Al-Saud, chairman of the Autism Families Association, applauded MojTam3E members for their volunteer work and the club's community service, especially in the areas of autism and schizophrenia. MojTam3E is governed by the KSU Deanship of Student Affairs.
Professor Hanan Nasser, founder and member of the MojTam3E Club, noted that since the end of Ramadan, club members have participated in Autism Families Association events, such as Eid celebrations for autistic children and their families.
In addition to its support for community service activities for children with disabilities, KSU plays an active role in autism research through its Research and Treatment Center. On March 31, 2010, center dignitaries and specialists, were present at the King Khalid University Hospital to launch a national awareness campaign for autism.