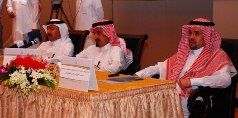 Under the auspices of King Saud University Rector Abdullah Al-Othman, and in the presence of Vice Rector for Graduate Studies and Scientific Research Prof. Ali Al-Ghamdi, a SWOT analysis session (an evaluation of an organization's strengths, weaknesses, opportunities, and threats) was held this week to assess the progress of the University's strategic plan.
Early in the session, Dr. Abdulaziz Al-Khedhairy,  Assistant Vice Rector for Graduate Studies and Research, enumerated the programs and units affiliated with the Graduate Studies and Research office, and reviewed its key missions and permanent committees. He emphasized that a SWOT analysis is an effective means of identifying ways to better achieve the University's goals, maximizing areas of strength and addressing weaknesses identified by session participants. In addition, participants can determine what external influences may comprise opportunities and progress.
Dr. Al-Khedhairy called on participants to provide recommendations and insight into ways that the Vice Rector Graduate Studies and Scientific Research can realize its ambitious goals. In particular, the Vice Rector identified research projects and means of attracting distinguished faculty as primary goals.
At the start of his address, broadcast on closed circuit TV to the KSU's Center for Girls in Olaysha, Dr. Al-Othman emphasized the need to answer some strategic questions: "Does every faculty member understand the importance of the work we are doing?" he asked and later added, "What makes the difference between wealth and poverty?" He asserted that research institutes of excellence, especially those at a prestigious university such as KSU, should understand that it is knowledge that makes the difference, espousing that comprehensive scientific research is one of the world's primary sources of knowledge.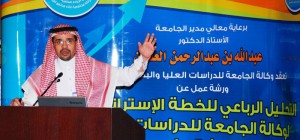 The Rector warned that scientific research and the quest for knowledge are not to be taken for granted, noting that the well-being of future generations is possible through original and innovative scientific research and not through the hashing and rehashing of theses to earn a scientific degree.
He emphasized the connection between research, national economies and humanity as a whole. As an example, the Rector cited the experience of South Korea. As a relatively poor nation in the 1970s, South Korea produced 300 ISO-approved research papers in the 1990s; today, however, the East Asian nation produces 56,000 ISO-approved research papers annually, which has brought the people substantial wealth.
Dr. Al-Othman said that that KSU currently has myriad strengths, yet asserted that the University has not achieved many of its goals. King Saud University, he noted, rivals outstanding Western universities financially, and that substantial annual budgets and grant money should be spent on researchers aiming to make a difference. "We will not invest in lazy researchers," he warned. "We must have researchers who will make history, and not live on its margin. We want to be good in everything when it comes to teaching, but we also want to be distinguished, creative, innovative and pioneering".
Dr. Al-Othman concluded saying, "The University must look at higher education as means for scientific development. We are among the priorities of the great leaders of this nation, where 27 percent of the national budget is spent on education. The challenge is how to spend this amount wisely on private and public education".