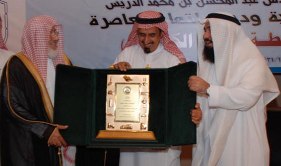 KSU Rector Abdullah Al-Othman and Eng. Abdulmohsen Aldrees signed an agreement on October 16 to establish the "Aldrees Chair for the Biography of the Prophet and its Contemporary Studies".
In a speech, Aldrees proclaimed the occasion to be a celebration of the life of the Prophet (PBUH), who called on believers to follow his example,  and quoted from the Holy Quran: <There has certainly been for you in the Messenger of God an excellent example for anyone whose hope is in God and the Last Day and [who] remembers God often>. [Surah Al-Ahzab: 21].
Chair supervisor Adel bin Ali Al-Shaddy began the ceremony by emphasizing KSU's honorable mission and dedication to the principles of the Kingdom of Saudi Arabia. He added that the Chair's creation is an auspicious achievement which will be a blessing to the University and its community.
Dr. Al-Shady thanked and praised Allah for facilitating the establishment of the Chair, and expressed his gratitude to KSU Rector Al-Othman and Vice-Rector of Graduate Studies and Scientific Research Prof. Ali Al-Ghamidi, as well as Aldrees for his invaluable funding of the Chair.
Eng. Abdulmohsen Aldrees said he was proud to be part of this KSU endeavor and commended it for its great strides in recent years. "Today we are in dire need of the scientific efforts and contemporary research projects that show people why a thorough, well-documented biography of the Prophet should be an example to follow," he said. "This is why I have been personally honored to fund this Chair, and I hope to please God and to aid the Ulama, researchers and aspiring Islamic scholars in all parts of the world to join in attaining the objectives of this Chair".
The Rector presented the university's official coat of arms to Dr. Aldrees and awarded the university medal to Abdullah Al-Mutlaq, a distinguished member of the Senior Ulema (Muslim Scholars) in Saudi Arabia and advisor to the Royal Court, whose strong support for the Chair was welcomed by those in attendance.
Dean Abdullah Alajaji, whose College of Education includes the University's Department of Islamic Studies, also attended the ceremony.