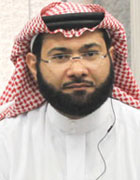 An electronic-service  which will enable faculty to place course information online, make it readily accessible for department heads, deanship officials and accreditation organizations has been developed f has recently been developed by King Saud University's Deanship of e-Transactions and Communications.
Dr. Yousef Al-Ohali, Dean of e-Transactions and Communications, revealed says that the service was initiated by the College of Arts and developed by the Deanship's Department of Administrative Applications.
The system will provide a means for faculty to place full course descriptions, in a format set by the National Commission for Assessment and Academic  Accreditation (NCAAA), on the University website. Established in 2004, Saudi Arabia's NCAAA is responsible for ensuring that the Kingdom's universities and colleges are in line with international standards of academic excellence.
Dr.Fahad Alkolibi, Dean of KSU's College of Arts, said that using the new service will increase interaction between faculty members regarding course curricula and enhances communication between faculty, departments and deanship officials who may access relevant information about courses. In particular, it will provide  evaluation and accreditation organizations looking to ensure that KSU courses meet with national and international standards. Information will be provided in both Arabic and English.
Dr. AlKolibi  praised the cooperation of the deanship of e-Transaction and Communication, and the efficiency of the Department of Administrative Applications team who arranged the service. He also thanked Dr. Assaf Alhawas, supervisor of the project at the College of Arts' Quality Assurance and Academic Accreditation Unit, for his efforts.
The service will be launched as a first trial in the College of Arts, under the supervision of  the university's Development and Quality Agency. Hamad Al-Sheikh, KSU Vice Rector for Quality and Development, said that the agency intends to expand the service university-wide, after assessing early results.