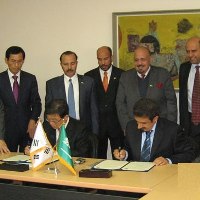 As part of a large Saudi delegation traveling to the Republic of Korea to establish educational and research ties, King Saud University officials recently signed an academic and research partnership with Seoul National University (SNU). The agreement, signed on October 25th, aims to develop research, academic and teaching cooperation between the two prestigious universities, as well as to facilitating the faculty and student exchanges.
Founded in 1946, Seoul National University (SNU) was the first national university in South Korea, and served as a model for future universities in the country. Geneally regarded as the nation's premier university, it is the most coveted destination for Korea's brightest high school students. It has more than 26,000 students in 16 colleges with 14 graduate study programs. The Shanghai Ranking of world universities lists SNU among the top 200 internationally, while the Times Higher Education's 2010-2011 World University Rankings place them among the top 100.
The agreement was signed in the presence of Saudi Arabia's Minister of Higher Education Khalid Bin Mohammad Al-Angari, while KSU signatories from were Rector Abdullah Al-Othman, Vice Rector for Graduate Studies and Scientific Research Ali Al-Ghamdi, the supervisor of the international twinning program Dr. Saad Al-Hussein and Korean project coordinator Zeid Al-Othman.
Also attending were King Abdulaziz University (KAU) President Osama Tayeb and the King Fahd University for Petroleum and Minerals (KFUPM) Rector Khaled Al-Sultan, as well as the Saudi Ambassador to Korea, Ahmad Al-Barrak and the Saudi Cultural Attaché Turki Al-Alayyar.
Related News