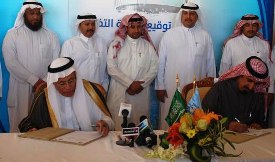 Saudi Arabia has oil. Water is another story.
Situated in the world's driest region, the Kingdom's water situation has improved in recent years, but the need for potable water per capita continues to grow as the population increases.
Saudi Arabia's water situation has improved in recent years, but the rapid growth in population has increased the need for potable water for the human consumption and the Kingdom's agricultural pursuits. Prior to 2004, Riyadh experienced a water shortage, particularly during the peak summer months when temperatures consistently in or around the 100 degree range.
To cope with the shortage, 18 million cubic meters of water was distributed by private contractors, and no one can say with certainty that it couldn't happen again. Saudi cities have no rainwater drainage systems to benefit from the brief but occasional severe winter deluges such as the one that occurred in 2010.
Aware of this impending problem, a memorandum of understanding was recently signed by King Saud University Rector Abdullah Al-Othman and Al Shareef, governor of the country's Saline Water Conservation Corporation (SWCC).
Dr. Al-Othman stressed the importance and potential of research into Desalination of seawater – the separation salt from ocean water as well as the cleansing of brackish water and collection of rain water – to provide potable water for human consumption and agriculture.
Dr. Al-Othman stressed the importance and potential of research into the desalination of sea water, especially considering Saudi Arabia's arid climate, and added that the Kingdom is the "perfect laboratory" to convert the research into economic advantages. He added that KSU's focus on the situation prompted the university to establish the Prince Sultan Center for Water Research.
Al Shareef expressed his delight at the memorandum of understanding having been signed, considering KSU's pioneer efforts in water research and the opportunity for KSU and SWCC, the Kingdom's largest electrical power producer to share their technological findings and theories. Ultimately, the alliance could optimize production at a lower cost and fill both the urban and rural needs.
The collaborative effort would appear to have a solid foundation from which to progress. Saudi Arabia has already invested heavily in water desalination facilities such as the one at Al-Jubail, one nearly 30 plants devoted to water desalination. According to a Gulf Capital study, nearly $117 billion will be invested in the Middle East, an increase of 59 percent investment from the previous decade.
The world, according to another report, has approximately 1,500 desalination plants, and the vast majority employ the distillation process which produces clean evaporated of water through high energy sources – in Saudi Arabia's case, oil.  Research could discover a means of desalination that his more environmentally friendly and more affordable.
Increased water conservation and water use efficiency remain the most cost-effective means of dealing with the problem, but that answer is easier offered than executed, therefore, the collaboration between KSU and SWCC is just one of many international efforts to produce a workable and practical solution.
Other methods have been researched and even applied. Osmosis was discovered in 1850, but it wasn't until 1960 that reverse osmosis was applied to water desalination. Some of the other methods applied or suggested involve solar, nuclear, and membrane desalination. Saudi Arabia is just one of a plethora of countries applying, planning, or studying means of increasing adequate supplies in a world in which a fifth of the population is estimated to have inadequate access to safe drinking water.
King Saud University and the Saudi Arabia's Saline Water Conservation Corporation are dedicated to speed up the process, whether through existing process or something they'll discover through extensive research.
Related News