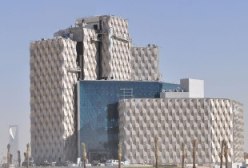 The Bourj Al-Ibtikar (Invention Tower), the latest addition to the Riyadh Technology Valley (RTV) research park complex, was recently dedicated by King Saud University Rector Abdullah Al-Othman in a ceremony that also included Mohammad Alkanhal, executive chairman of the Saudi Food and Drug Authority, Shura Council member Ahmed bin Mohammed, and other distinguished KSU vice rectors, college deans and faculty members.
Dr. Al-Othman called the dedication of the tower a historic moment for KSU and for the Riyadh Technology Valley, which has become an oasis of science and a primary economic force now that more than 60 percent of the global economy is knowledge-based.
The science park was born of a vision to diversify the Saudi national economy, transitioning it from being petroleum-based to knowledge-based.
The newly erected building will be home to the executive management of RTV, as well as the Valley Company, the Riyadh Innovation Center, the Riyadh Technology Incubator and various other companies vital for the development of Saudi Arabia's knowledge-based economy.
RTV executive director Dr. Abdulaziz Nasser Aldusari explained that the tower actually has two towers: an eastern one consisting of 10 floors and a western one with five floors. The towers are linked by a main hall and skyways. The design is based on an open office plan that allows for easy reconfiguration of office space for future expansion. A reception area atop the tower provides a panoramic view of the surrounding RTV area and the King Saud University campus.
Dr. Aldusari said the meeting halls and training and workshop rooms make up only half the area allotted for office use because of the importance of communication and discussion and participation in the research, development, creative and knowledge transfer processes.
Among the cutting-edge features are an  ID-card system to track and guide visitors, informing visitors which office or hall he should go to; in addition, there are interactive screens in corridors and lounges, a building information system that generates and manages building data, reducing operational expenses of lighting and air conditioning and supplying daily reports about building operations. Aldusari added that the building is covered by an intelligent coat that allows natural sunlight in without excessive heat, and that all units, offices and rooms in the building are linked to a communications network that allows live, visual contact with other research centers.
Riyadh Techno Valley was initiated by King Saud University in response to the 8th Development Plan of the Kingdom, which called for the "establishment of science parks at universities and research centers." It also sought to direct more attention to the promotion of co-financing and joint research programs between industry and public sector institutions, and to establish business incubators in order to transform research results into industrial and commercial applications.
In 2008 King Saud University Council passed a resolution approving the creation of the Riyadh Techno Valley, which was inaugurated by the Custodian of the Two Holy Mosques in 2009.