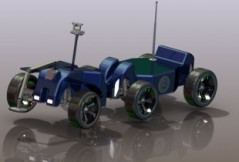 A team of students and faculty at King Saud University's Innovation Center has been chosen as one of five finalists in an international competition for designing a mine detection robot.
Land mines left behind from wars are a significant to individuals around the world, and massive cleanup efforts are needed to detect and destroy the estimated 100 million land mines still buried in 76 countries and territories. In order to bring awareness to the persistent threat of landmines and cluster bombs in Lebanon and its greater region, National Instruments (NI), a producer of automated test equipment and virtual instrumentation software, and the United Nations announced in 2009 invited students to help solve the problem in the NI Arabia Mine Detection Robot Design (NI MDRD) Contest.
The contest announcement met with great interest and of the many entries submitted, 42 were abstracts and proposals from Middle East universities. The five qualifying design teams were chosen after submitting presentations explaining their robot's functional and algorithm designs, simulation results, design model and any other partial results. Final papers must be submitted by these teams by June of 2011, and a final competition with presentations and robot demonstration will take place in Lebanon on July 15th. The winner will be announced that day.
KSU's project team developed their robot at the advanced laboratory for intelligent systems research at the College of Computer Science and Information and included electrical engineering students Omar Abu Neyan, Fahad Al-Shalan, Fahad Al-Ajlan, Bassam Al-Namer, and Omar Al-Aqeel, and mechanical Engineering student Ahmad Al-Hindi. Faculty members included Naif Alajlan and Naseem Omour, in addition to Khaled Al-Zahrani, Mohammad bin Shareef and Saleem bin Yusuf.
Using various cutting edge technologies, the KSU team has created a robot that can be operated mechanically or manually, and is programmed to avoid obstacles in its path and reach a destination point in the shortest possible route. It also possesses a sensor arm for revealing where land mines are buried. In order to reach specific locations and safely position itself, the robot is equipped with a radio system for remote communication and a Global Positioning System.
Dr. Alajlan, supervisor of the Innovation Center, briefed a senior delegation on the robot project during the recent inauguration of the newly constructed building that houses the Innovation Center's advanced laboratory. The delegation consisted of the Minister of Higher Education Khalid Al-Angari, KSU Rector Abdullah Al-Othman, KSU vice rectors Abdulaziz Al-Ruwais and Ali Al-Ghamdi, as well as the Dean College of Computer and Information Sciences Hussam Ramadan.
In addition to his part in the KSU team's success in the NI MDRD Contest, Dr. Alajlan won the best research award at this year's Fifteenth International Symposium on Artificial Life and Robotics, which took place in Beppu, Japan.