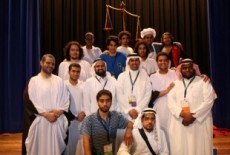 King Saud University student Shujaa Al-Qahtani recently won the Best Actor award at the Second Gulf Theatre Festival (GTF) hosted by the University of Bahrain from November 21-25 for his role of a judge in "Council of Justice", a play examining current international legal systems.
First held in 2007, GTF was created to encourage creativity, art and interaction among students of the Gulf Cooperation Council's student communities, as well as highlighting the culture and heritage of the Gulf Arab Muslim world. This year's event featured plays from fifteen universities, involving more than 250 participants. Per the festival regulations, the plays must be directed and performed by students of the participating universities.
The delegation from KSU was led by Professor Ahmad Al-Ghamdi, Vice Dean of Student Affairs, and included Mohamed Shamrani, Supervisor of Cultural Programs, and Abad Baqmi, Theatre Director. The festival featured ten Saudi universities in all, including Taif University, Qassim University, the University of Tabuk , the University of Ha'il, King Faisal University, King Fahd University of Petroleum and Minerals, King Abdulaziz University, Imam University and Jazan University.
In addition to Best Actor, four other awards were granted at the festival. Qatar University won the award for Best Theatrical Performance with their "Youth, but . . .", while the Best Stage Direction award went to Ibrahim Khalfan of the University of Bahrain for the play, "Page 8". Best Script went to Reem Al Mutairi of King Fahd University of Petroleum and Minerals for the play "Full-Fat Craze", while Fahad Al Harthi of Taif University won Best Scenography (the art of creating theatrical performance environments, using space, set, costume, sound, lighting, etc.) for "Storm".
Dr. Ebrahim Guloom, Head of the Gulf Theatre Festival's Arbitration Committee, said that he and his colleagues had great difficulty in selecting the winners because of the abundance of high quality performances.