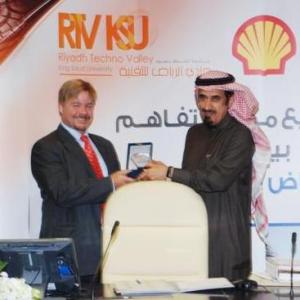 King Saud University Rector Abdullah Al-Othman and Business Development Manager for Shell Companies in Saudi Arabia, Axel Knospe, recently signed a collaborative agreement that will join the forces of the Riyadh Techno Valley (RTV) and Shell Intilaaqah Saudi Arabia.
The signing marked the launch of the Shell Intilaaqah initiative that's based on the Shell Live WIRE Programme, an online community for young entrepreneurs (aged 16-30) who are starting or running their own business. Shell Intilaaqah Saudi Arabia provides young Saudis with a wide range of services such as personal counseling and training, as well as awards, competition programs, and various other incentive schemes.
Shell Intilaaqah offers male and female students great benefits through its emphasis on theoretical knowledge and practical business skills, particularly in the field of a major company such as Shell. The Rector stressed that the signing ceremony is only the beginning of what will be a far-reaching student-training program. He said the program would undertake research projects that will serve the interests of both Shell and KSU.
Dr. Al-Othman said that the agreement will hopefully lead to even more rich collaborative programs in the future between Shell and KSU and provide a foundation for the development of their strategic partnership, which will inspire young Saudis to establish small-scale projects in different fields of technology and ultimately contribute to Saudi Arabia's greater economic development, diversification of national economic resources and the promotion of competitive business models.
For his part, Vice President Axel Knospe conveyed a message emphasizing social responsibility through the Intilaaqah Program, which provides specialized training programs for young innovators who have the courage to generate and evaluate business ideas. He noted that Shell Intilaaqah aims to motivate "those who start successful projects, promoting the principle of competition, establishing pioneering investment projects based on innovation and development and holding seminars and workshops to educate the youth on innovation and entrepreneurship, in addition to disseminating free business culture."
The agreement, a joint collaboration between Riyadh Techno Valley (RTV) Company and Shell Intilaaqah, has been designed to encourage innovation in Saudi's large pool of talented youth, empowering them to create projects based on research, development and innovation. It also recognizes the vital role of young Saudis in building a knowledge-based economy and enhancing the Kingdom's level of global competitiveness.