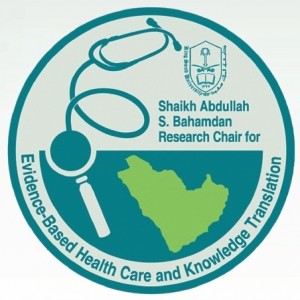 Sheikh Abdullah Bahamdan Chair for Evidence-Based Health Care and Knowledge Translation (EBHC) reports that more than 1,000 King Saud University papers have been published in 2010, according to the Thomson Institute for Scientific Information.
The university's milestone achievement was recently announced by King Saud University Rector Abdullah Al-Othman in his opening speech of the 3rd annual EBHC Scientific Meeting, attended by the research chair's major supporter Sheikh Bahamdan, Vice Rector Ali Al-Ghamdi and Dr. Mussaad Al-Salman, Dean of the College of Medicine and supervisor of University Hospitals.
The 1,008 papers published in distinguished scientific journals – with 120 more expected to be posted before the year ends – are more than twice the record number published last year, three times the number published in 2008, and four times the total in 2007.  The papers include research results and evidence-based clinical practice guidelines that can be adapted for local use, encouraging the writing of books and enhancing the base for further research.
"These achievements," said Al-Ghamdi in his comments, "confirm my faith, as well as the faith of my fellow businessmen, that funding research chairs is a valuable endeavor."
In turn, Dr. Al- Othman noted that the benefits of support from the Sheikh and others are obvious to not only at King Saud University, but other universities in the Kingdom. The Rector said that research and the dissemination of information from that research had contributed to the happiness and well-being of not only residents of the Kingdom but worldwide.
"[This] Scientific Meeting is a celebration of the successes of such programs, which have set and met key objectives, and today we recall the university's drafting and announcement of Sheikh Bahamdan's research program in 2007, targeting the university's strategic goals," Dr. Al-Orthman said. "Judging from the publishing successes of 2010, the the Sheikh Abdullah S. Bahamdan Research Chair has clearly been a catalyst of progress, proving that universities are certainly vital resources for global economics."
Al-Othman added that modern institutions have four major goals – funding, quality [of research], acceptance, and alignment with the labor market – and the Bahamdan Chair has been effective in helping KSU in meeting those considerations. The Rector implied that he was particularly pleased with the impact that Sheikh Bahamdan's impact on the King Saud University College of Medicine which continues to receive international attention.
The second highest number of publications by other Saudi universities is less than 40 percent of those produced by King Saud University, and Dr. Al-Othman said he hopes that it will enhance his institution's standing in worldwide university rankings such as the annual Shanghai rankings. Conversely, he implied that he hopes that the KSU success will encourage other universities in the Kingdom to increase its emphasis on research and publications.