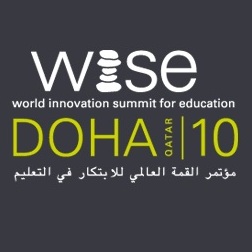 The 2nd World Innovation Summit for Education (WISE) took place last week in Doha, Qatar with King Saud University Rector Abdullah Al-Othman as one of the featured speakers. The Summit gathered more than 1,000 participants from various corners of the world including high-level university administrators, educational researchers, politicians and private sector stakeholders. WISE is held annually in order to  foster innovative collaborations and initiatives, inspiring progress in education.
Over two and a half days, Summit participants explored current trends in improving educational structures and considering innovative initiatives.
Plenary sessions and breakout sessions specifically addressed the crucial issue of educational funding in the 21st century, while "spotlight" sessions, which are in-depth keynote addresses, frequently took place along with workshops and product demonstrations. A Gala dinner, in which WISE Awards were presented, also provided participants with an excellent setting for informal networking.
Rector Al-Othman, having received a special invitation from the Summit organizers, took the opportunity to detail some of KSU's successful endeavors and share his perspectives regarding leadership and changes in the traditional education system. His presentation, entitled "Strategies for the Kingdom and King Saud University in the creation of knowledge", noted the importance of knowledge as a bridge from poverty to wealth; in addition, it emphasized that scientific research is the key to generating knowledge in the 21st century.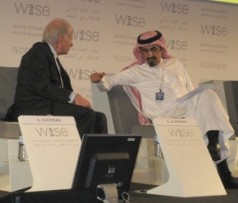 He detailed the ideas and policies behind Saudi Arabia's educational renaissance, attributing improvements to the Kingdom's acknowledgment and adaptation to the changing environment of knowledge and technology. He pointed out that until recently, the Kingdom had only seven universities; today, under the leadership and support of His Royal Highness King Abdullah, that number has grown to 33 with a student population of more than one million students.
Rector Al-Othman stated that today, King Saud University understands that it must have the ability to develop its own funds, and be prepared for heavy competition. It is committed to a mission that emphasizes society's well-being, the development of ambitious research projects and innovative ways to improve the University's student environment. He offered KSU's Preparatory Year (PY) Program as one example, a model which prepares first-year students with essential English language and information technology skills, a stronger foundation in mathematics and a number of personal skills.