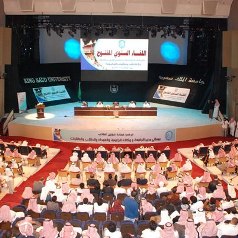 The annual meeting between King Saud University Rector Abdullah Al-Othman and KSU students was held recently in Hamad Al-Jasser Hall, the continuation of his policy design to maintain open lines of communication with King Saud University students.
Students in Dariyah, Al-Malaz, Olaysha, East Riyadh, and Al-Badea were provided with closed-circuit television link to the hall where the meeting took place.
Dr. Al-Othman expressed his profound respect for the students, calling them his "sons and daughters," and described them as the "harbinger of hope . . .the  heroes of tomorrow . . . the heroes of our beloved kingdom." He told them that the partnership between KSU and the students have paid invaluable dividends for all concerned.
"You have shown responsibility and your fertile minds have brought creative ideas in research and scientific programs, which are central objectives of this university," Dr. Al-Othman said. "Changing our concepts of learning, from simple theory acquisition to preparing students for a productive, professional life after college.
The KSU leader acknowledged that the job market cannot provide job opportunities for everyone, forcing the students to create opportunities for themselves and colleagues, but said he has seen and is aware of myriad examples of KSU students who have successfully met the challenge.
"KSU has happily entered into partnership with a number of our alumni, individuals such as Engineer Khalid Zahrani," Dr. Al-Othman, "Forty percent of his automatic answering-machine services have been purchased by King Saud University.
"He is just one graduate who gives us great pride, and we ask all students to look at him as an example to follow".
The KSU rector emphasized the changing role of students in the 21st Century learning process. He said that a student who calmly waits for knowledge, like a baby waiting to get his mother's milk, will not be productive and self-sufficient after graduation. "This is the type of student  that KSU is trying to inspire and change and better prepare for the modern job market," he said. "The University actively encourages students to use every modern means at their disposal, such as new technology and cutting edge laboratories, to prepare for life "in the real world".
Rector Al-Othman continued, "I believe we have succeeded in these endeavors over the past few years. As my sons and my daughters, you are part of me, part of this university and part of this great nation. I am not criticizing you; rather I am the captain of the ship who must alter the course to get his passengers to their destination in the best possible manner.
"In the uncharted seas of the modern job market, world economic uncertainties and constantly-changing realities, it is no longer enough to limit oneself to studying textbooks. Now is the time for interactive learning! Soon it will be time for you to compose your own curricula. From passengers in a huge ship, you will soon become captains of your own ships. You chart its course to your destination shores."
The Rector said insisted  unprecedented opportunities exist for KSU students. Extraordinary resources such as the Riyadh Techno Valley (RTV) -- whose investments have surpassed 3 billion SAR ($80 million USD) -- are strengthening the Kingdom in an age in which  Saudi Arabia possesses a strong "knowledge economy." Saudi Arabians are witnessing the rise of an extraordinary, world-class scientific and economic center, with notable partners such as SABIC, the leading chemicals company in Asia and fourth worldwide in the world by Fortune Global 500.
According to Dr. Al-Othman, KSU has for decades worked hard to meet the demands of the job market,  The ten most-wanted jobs today did not exist in 2004, which indicates that old academic structures must change and adapt. Universities must leave their traditional teaching role, and work to increase students' productive capabilities.
The University, for example, stressed quantity of publishing in 2008; however, by 2010 that emphasis had become quality. We are stressing patents in 2010, yet in 2011 we will increasingly emphasize that graduates, themselves, begin creating jobs through entrepreneurship. KSU has registered seven companies in the Ministry of Commerce, and one of these companies is owned by a current KSU student, who has already hired five of his fellow students. Indeed, the real incubators for jobs are universities".
The Rector concluded his speech by urging all students to make themselves heard, asserting that every University unit and its faculty are eager to hear their input.
The annual meeting is a part of the Rector Abdullah Al-Othman's open-door policy to students and members of the KSU community, and in line with administration's efforts to bridge the interests and concerns of students, faculty and administration.
Rector Al-Othman is in fact a graduate of King Saud University and among the youngest university presidents in the world. Before becoming KSU's seventh Rector on March 21, 2007, he had served in numerous high-level positions in the Vice Minister of Higher Education and King Saud University.