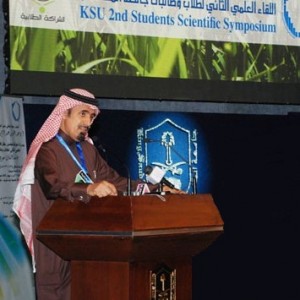 King Saud University's Rector Abdullah Al-Othman recently opened the activities of the two-day Student Scientific Symposium, which took place in Hamad Al-Jasser Hall.
Attending the ceremonies were Major General Mansour Al-Turki, who represented the Saudi Arabian Ministry of Interior, and a contingent of  KSU Vice Rectors, faculty members and students.
In an opening speech, Dr. Fahad Ibn Hamad Al-Quraini, supervisor of the symposium's organizing team, said that 1,600 research papers were submitted for the second symposium compared to 600 submitted for last year's inaugural event.
The increase illustrates a growing culture of research and marks the culmination of KSU's policies aimed at building the Kingdom's knowledge-based society. Dr. Al-Quraini emphasized that the second symposium's organizing committee was composed of both male and female KSU students who spared no effort, time or ideas to make the event a success. He also revealed that the second symposium's budget was more than 25 percent larger than last year.
Dr. Al-Othman asserted that this symposium was a significant indicator that KSU is on the track, designated by the Custodian of the Two Holy Mosques, HRH the Crown Prince and HRH the Second Deputy Premier. He noted that as the Kingdom possesses one of the world's twenty strongest economies and must commence exporting knowledge in the same way it exports energy. He affirmed that this is a  century of knowledge, with the current difference between wealth and poverty being the production of knowledge.
Dr. Al-Othman also declared that KSU is creating a knowledge-based society through its students who have submitted more than 2000 research papers to respected scientific journals, 400 of which were accepted. The papers, he said, constituted 40 percent of KSU's publications listed in the 2010 ISI.
In conclusion, he said KSU administrators, faculty, and students  should be proud of their achievements which represent a successful transition toward a diversified knowledge-based national economy. KSU, he proudly noted  is establishing a global leadership role, earning recognition as one of the world's best universities, according to many distinguished international rankings.
Rector Al-Othman said that King Saud University's goal is that by 2015 is to be ranked among the world's top 100 universities in the prestigious Shanghai Ranking and to increase KSU's published research to 10 percent, the equivalent of South Korea's. In a relatively short period, South Korea has become the world's third-ranked exporter of patents behind the United States and Japan, providing King Saud University with profound incentive to  reason to establish a knowledge-based economy.
knowledge-based economy.
According to Rector Al-Othman, the King Abdullah Foreign Scholarship Program is another important effort by the Royal family to establish a knowledge economy, providing 100,000 Saudi students with the opportunity to study at the finest international universities. The scholarship program's prolific allocation of foreign scholarships ranks third among nations, after China and India and first when compared with the size of population.
KSU Rector stated that the University has allocated 25 million SAR [6.7 million USD] to the Riyadh Valley Company, with which various centers of research have been established. He added that South Korea has been chosen as a destination for an upcoming university trip for outstanding students.
The opening ceremony featured an inauguration, led by Rector Al-Othman, of a art exhibition displaying students' award winning pieces.
For his part, the spokesman for the Interior Ministry delivered a lecture titled "The Deviant Group –Means and Methods of Luring and Recruitment", in which he talked about the sufferings of human societies resulting from Muslim youth's misunderstandings of the concept of Jihad. He also discussed how exploitation of these misunderstandings has had a negative impact on Islam in the international community.