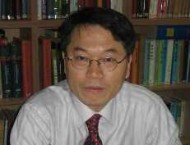 Earlier this week, King Saud University's Riyadh Technology Incubation Center (RTIC) received Professor Kim Hak Yong, Director of Chonbuk National University's Center for Healthcare Technology Development, and a KSU Petrochemical Research Chair visiting professor. He was accompanied by Dr. Nasser Barakat of Chonbuk University's Organic Substances and Fibers Department, and KSU Petrochemical Research Chair supervisor Salem Al-Deyab.
The visitors were received by Mr. Rashid Malik, RTIC's Business Development Manager. Mr. Malik introduced his guests to various products developed at RTIC that are contributing to the nation's growing knowledge, as well as current projects underway and student works submitted to the RTIC.
Dr. Mezyad Alterkawi, the RTIC Executive Director, extended his warm greetings and urged that such visits continue in the future. Noting KSU's part in transforming Saudi Arabia's economy into a knowledge-based one, he lauded the vigorous efforts made by Rector Abdullah Al-Othman and Vice Rector for Graduate Studies and Scientific Research Ali Al-Ghamdi. He emphasized that the exchange of expertise between KSU and universities of excellence will contribute to cultivating a new generation of innovators, whose talents will serve the Kingdom well and further elevate its international standing in national and scientific communities.
The Riyadh Technology Incubation Center is a technology incubator established to encourage and support innovation and entrepreneurship throughout the Kingdom. King Saud University's extensive array of colleges and educational resources necessary to support an incubator to include science, engineering, medicine, and business areas.
The RTIC is emporarily located in the College of Engineering, KSU, but it will eventually be moved to the first tower of Riyadh Techno Valley (RTV), a science park that is being constructed by KSU to achieve knowledge economy.
Chonbuk National University was founded in 1947, following the liberation of the Republic of Korea, by the Provincial fund within the framework of the Korean national university system; it is one of 10 Flagship Korean National Universities.
Related News