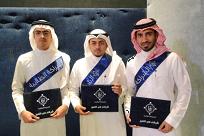 Four College of Computer and Information Sciences (CCIS) students, Nasser Alrayes, Abdulmajeed Alameer, Abdulrahman Alsaudi, Ahmad Alabdulkareem from the have developed an innovative project entitled "Brain Controlled E-Mail Client".
Under the supervision of the Department of Computer Science's Dr. Sofien Gannouni, the four students successfully implemented a mail-client application that, using electrical activities of the brain, allows severely disabled people to compose, read, reply and forward emails using a brain computer interface.
The project received great attention at King Saud University's Second Annual Student Scientific Symposium, where Alrayes, Alameer, Alsaudi, Alabdulkareem won first prize in the program's competition for innovation.
The Symposium annually provides KSU students the opportunity to test their great research potential through various competitions, which cover multiple scientific branches and offer a public venue for them to display and publicize their innovative and artistic creations.
Dr. Gannouni congratulated his students for their outstanding work and gave thanks to his colleagues, department administrators and the College of Computer Science. In particular, he recognized the invaluable support given to the student project by the Deanship of Scientific Research, through the Research Center of the College of Computer and Information Sciences.