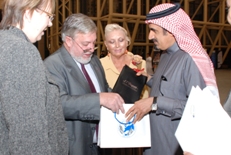 Cooperation between King Saud University and the prestigious
Pantheon-Sorbonne
University, signed by the Minister of Higher Education Dr. Khalid Al-Angari in 2008, has taken another important step in their collaborative efforts. Earlier this week, KSU Rector Abdullah Al-Othman and Pantheon-Sorbonne University Chancellor Jean-Claude Colliard signed an agreement establishing a joint mathematics chair at KSU, particularly regarding graduate students.
Pantheon-Sorbonne, renowned in the field of mathematics, will cooperate with KSU's Science and Mathematics Chair to develop a more intensive math curriculum, and is to be managed by two professors from each university. He said that the Chair will benefit Saudi students at KSU or those studying abroad.
Chancellor Colliard expressed his deep admiration for what he saw during his visit to the King Saud University campus, saying, "I am here to salute this great university whose reputation has been known to us for so long. I am astounded by this university's achievements and its phenomenal drive for modernization, and its harnessing of new technologies. I have toured its labs and they are just stunning".

He expressed his enthusiasm for the cooperation between the two universities, highlighting the agreement signed today and hoping that there will be other cooperative agreements between the two universities in other domains.
Besides Colliard, the French delegation included Christine Mengin, Vice-President for International Affairs, and a number of Pantheon-Sorbonne professors of law, economics, history and archaeology.
Dr. Saad Al-Hussein, Supervisor of King Saud University's International Twinning Program, pointed out that many more venues for cooperation exist for the two universities, include tourism, archaeology and political science. He stressed that this latest agreement is only an initial step, which will eventually lead to joint-partnerships that support the Saudi citizens' drive to build a stronger nation.
In 2008, the KSU College of Tourism and Archaeology and the Sorbonne signed an agreement establishing a scholarship program for Saudi Masters and PhD students. A team has been formed, headed by King Saud University's Said F. Al-Said, Dean of College of Tourism and Archaeology, and Professor Christian Robin, a French archeological specialist, to survey archaeological sites in the Najran area, with another team surveying Mada'in Saleh, also known as Al-Hijr, which is one of the most renowned archaeological sites in Saudi Arabia.
Chancellor Colliard said his university had genuine intentions to work with Saudi universities. "We will benefit from what we have seen at King Saud University in setting up a new university in the north of France," he said. "Today, we have signed four agreements for partnership contracts in several fields and for research chairs, and I will make these partnerships a central focal point for work at the Sorbonne."
The Surbonne was established eight centuries ago, undergoing significant during the French Revolution, Napoleonic Wars, the two world wars and the student revolution of May 1968. Université Paris 1 Panthéon-Sorbonne, with 40,000 students, was established in 1971.
She serves on various boards such as the National Family Safety Program, the Sanad Children's Cancer Support Society and the Khadija Bint Khowailid Center (KBKC), which promotes women in the economic field.
The Hathiehi Tajrobati program included open discussion with students, high-level administrators, faculty and attendees from various spheres of the Saudi community.
Related News