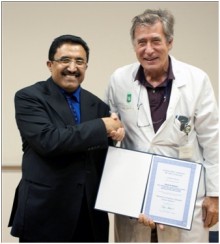 Dr. Aayed Al-Qahtani is known for his surgical prowess, his insightful research projects, and his countless presentations, seminars, and workshops, recently was named "2010 Surgeon of the Year" by Austria's University of Graz for his pioneering work and achievements in pediatric bariatric laparoscopic surgery, a procedure used to promote weight loss and reduce the complications associated with morbid obesity.
The lofty recognition was the latest for the director of King Saud University's Obesity Chair, Dr. Aayed Al-Qahtani, a physician who since the early 1990s has established a distinguished curriculum vitae within the Kingdom and internationally.
The University of Graz is one of Austria's largest and most prestigious institutions of higher education and a stronghold of academic history including a Nobel Laureate. Dr. Al-Qahtani lectured on "robotics in pediatric minimal access surgery" during his visit to Austria.
Dr. Al-Qahtani's award was closely linked to an unprecedented operation he performed last autumn at King Khalid University Hospital in Riyadh. Using a robotic device, he stapled the stomach of an obese child who had become unable to move normally and suffered from diabetes and severe joint pain. The procedure, performed out of dire necessity, was the first of its type conducted world-wide.
In 90 percent of cases performed of similar procedures conducted on adults, diabetes, hypertension, and joint pain his been eliminated.
"There is no doubt that the clinical experience together with our research and scientific publication, [as well as] the valuable participation in international conferences and workshops were among the main selection criteria," Dr.Al-Qahtani said of the award.
King Saud University has an international reputation in the experience of pediatric bariatric surgery and Al-Qahtani, KSU's director of pediatric surgery, holds a profound share of that reputation. His dozens of presentations, publications and committee memberships and committee chairs include myriad child-related subjects. He is extremely active in the area of obesity, particularly among children who in selective studies conducted between 2005 through 2008 revealed that 11.1 percent of Saudi children and teenagers are obese.
Dr. Al-Qahtani estimates that the today's rate is approaching 35 percent, but adds that obesity isn't a problem that stretches far beyond the Kingdom's children, teens, and adults.
"Worldwide, obesity now matches smoking as a leading preventable cause of death because it leads to a long list of diseases such as diabetes, coronary heart disease, and even cancer," he said.
In addition to being an executive member and scientific committee director of the Saudi association of pediatric surgery, Dr. Al-Qahtani is a representative of the International of Pediatric Endosurgery Group as member.