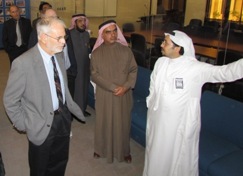 This week, a delegation of American experts in the field of academic accreditation visited King Saud University's College of Computer and Information Sciences (CCIS), as part of the University's mission to ensure that its academic programs are meeting the highest international standards.
Representatives for ABET, Inc., a non-governmental organization that ensures educational quality assurance for programs of applied science, computing, engineering, and technology education, visited the College's male and female centers in order to observe department offices and academic facilities. The subsequent assessments and advice issued by the visiting officials will provide CCIS, which is applying for ABET accreditation in 2011, with an invaluable roadmap for meeting stringent international standards.
On Saturday morning, Dean of the College of Computer & Information Sciences, Hussam Ramadan, along with various vice deans and department heads, welcomed the ABET team of to the Kingdom of Saudi Arabia and to King Saud University, and accompanied the visitors in a tour of CCIS offices and educational facilities.
The delegation continued their observations on Sunday and held an open discussion session with CCIS administrators and faculty, while the discussion was chaired by Dean Ramadan.
ABET accreditation is assurance that a college or university program meets the quality standards established by the profession for which it prepares its students. Thus, the CCIS academic program strives to meet the quality standards set by, among others, the IT, software engineering and computer engineering professions.
Related News