A delegation from the King Saud University's Olaysha Center for Girls recently visited the Riyadh Tecno Valley where the visitors were provided a tour by RTV CEO Dr. Abdulaziz Al-Dosari.
This was not the first visit by Olaysha Center members, according to Dr. Nora Al-Shaikh, Dean of the Olaysha Center for Girls, but it was an opportunity for them to see the progress that has been made in one of KSU's most celebrated projects.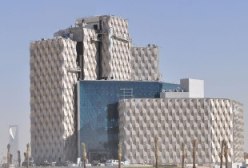 "There was an earlier visit to Riyadh Techno Valley to see the projects directly," Dr. Al-ElShaikh said, "and be able to give the female students all the possible chances to participate and succeed along with their male colleagues."
In Mr. Al-Dusari's tour, he revealed the knowledge-based economy strategy of the valley, an area in which Saudi Arabia is seeking development on many different levels Dr. Al-Dosari discussed some of the RTV's  most promising  centers in Biotechnology, Chemical Technology and the ICT Valley, and singled out the King Abdullah Institute for Nanotechnology (KAIN) RTV and approximately a dozen other projects.
After the presentation,  the visitors were shown the RTV model and were escorted to the construction are where one of the student's projects involving solar energy. The tour ended with the distribution of RTV souvenirs and brochures.
Dr. Al-ElShaikh expressed her appreciation and thanks for the RTV and the success it has achieved for King Saud University, as well as for HRH King Abdullah and Crown Prince Sultan for embracing the value of higher education, which has enhanced the Kingdom's recent success. She also cited KSU Rector Abdullah Al-Othman for his creative vision and special leadership in helping KSU become a world-class university and Khalid Al-Angari, Saudi Arabia's Ministry of Higher Education, for his guiding hand in education.