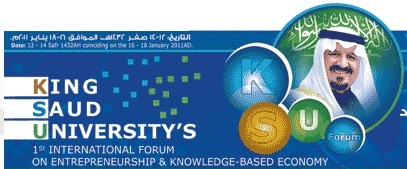 King Saud University recently concluded the 1st Forum on Entrepreneurship and Knowledge-Based Economy 2011, a three-day collaboration that focused on Saudi Arabia's efforts to transform its economy from oil-based to knowledge-based.
Key concepts of the Jan. 16-18 forum, which attracted local and international experts and was well-attended, were that individuals are vital to the process, start-up capital must be made available and legislation should be amended to ensure success for new ideas. In particular, Dr. Ali Al-Ghamdi, KSU Vice Rector for Graduate Studies and Scientific Research, asked for regulations that facilitate patent registration.
"Our national economy has entered a new stage, which is one reason KSU strongly encourages patent registration," Professor Al-Ghamdi said.
The message of Dr. Sultan Bahabri, chairman of HITS Telecom, who headed the opening session, titled "The system of knowledge industry," was: People must not be afraid to try new ventures.
He said the phobia of failure must be replaced, saying: "We should not shy away from trying new ventures for fear of losing" and added that good use must be made of the experiences of others and that this has become the task of individuals and not governments or states.
Dr. Theodor Hänsch, co-winner of the 2005 Nobel Prize in Physics and director of the Max Planck Institute of Quantum Optics in Germany, then talked about his experience in these topics in the United States.
Dr. Hisham Haddara of Egypt spoke of his experience in setting up companies with the participation of students. He hoped that the idea would spread in the Kingdom and that faculty would get a chance to set up projects jointly with their students.
Other sessions included:
"Financing and investment for building a knowledge-based economy and entrepreneurship," which included addresses by Abdulaziz Jazzar, co-founder of the venture capital firm Al-Malaz; Talat Hafiz, Secretary General of the Media & Banking Awareness Committee of Saudi Banks; and United Nations Regional Advisor for Science and Technology Mohamad Mrayati.
Abdullah Al-Rashoud, founder and CEO of the investment bank KSB Capital Group, talked about his regional and international experiences -- including in Japan and the United States -- in supporting and financing small businesses and business incubators. He said a financing gap exists in Saudi Arabia between the expectations of entrepreneurs seeking direct financial support and that of potential venture capital financiers, who look at economic value, realism of the enterprise and ways to market the product.
Al-Rashoud's recommendations included: improving the investment climate, developing scientific and educational infrastructures, supporting venture capital, supporting and financing small businesses, and activating business incubators.
Dr. Jazzar emphasized the importance of start-up funding and called for the creation of specialized funds financed equally by the government and private sector and managed commercially, saying these investments will transform the area from a "valley of doom" to a "green valley of success.
Mr. Hafiz noted that the concept of a knowledge-based economy needs to be better defined, pointing out that knowledge-based economy and IT economy often are confused or overlap.
He also noted that there exists a significant absence of digital knowledge among Saudis, and that schools universities and the media must endeavor to correct this.
"There must be a national strategic concensus linking all efforts and coordinating them," he said.
On the final day of the Conference, experts discussed legislation related to knowledge-based economies and entrepreneurship. Vice Rector Al-Ghamdi, for one, emphasized the importance of KSU's increasing number of patents, an indicator of increased research and innovation, and attributed much of these improvements to the support of Saudi leaders.
Dr. Khalid Al-Omair presented ideas taken from his research in a speech entitled "Legislation pertaining to entrepreneurship and a knowledge economy". This study called for several amendments, including establishing a special status for those working in certain scientific fields, canceling regulations that hinder innovators from registering patents, reducing laws governing contracts and new legislation that will support a knowledge-based economy.
Dr. Khalid Al-Omair said this forum should result in the formation of a national committee on a knowledge-based economy.
Dr. Fawaz Al-Alami, Deputy Minister of Commerce for Saudi Arabia, explained the difference between the price of a ton of oil and the price of a ton of technology, saying the difference is greatly favors technology and thus a knowledge-based economy must be supported because it will return benefits for the country.
Arthur Nutter of the intellectual property consulting firm TAEUS, said the world has grown more intelligent, which is why the United States has kept the rights to patents.
"We should learn at colleges how to build a knowledge economy, especially in engineering colleges," he said, and added that there is currently a fast growing demand for patent protection. "To achieve a knowledge economy, Saudi Arabia must encourage inventors and innovators," he said.
A workshop entitled "Venture capital and its impact on a knowledge-based economy" featured speakers Ahmed Al-Soury, Riyadh Techno Valley investment advisor Abdelhakim Hammach and Ghazi Ben Othman of Tunisia's MINAH Ventures.
This workshop asserted that small and medium-sized enterprises succeed only with the combined efforts of government and Saudi banks and their help in expanding business, which increases employment opportunities.
The final workshop, "Human investment for transformation toward a knowledge-based economy," featured Secretary General for the Council of Saudi Chambers of Commerce and Industry Fahad Al-Sultan and Shura Council member Khaled Abdulrahman Al-Saif.