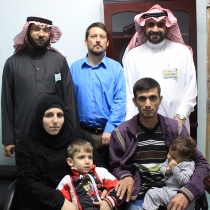 Years from now, Rawand Huraizat will not remember her frightening and frantic journey from Palestine to Saudi Arabia. She will have no recall of the Prince Sultan Research Chair's (RCHD) devoted attention to her medical needs.
The now 18-month-old Palestinian girl will, however, one day be told about the events, and more importantly she will hear about how she arrived in Riyadh a profoundly deaf infant and returned home with the wondrous gift of a world filled with voices and sounds.
In a 90-minute operation conducted by a medical team led by Dr. Abdulrahman Hagr, the daughter of Morad and Ala'a Huraizat received a cochlear implantation, the surgical attachment of a tiny electronic device that frees the profoundly deaf and severely hard of hearing from a potential life of silence. The small device is implanted in the inner-ear portion activated by an external mechanization placed just under the skin behind the ear.
Dr. Hagr, the supervisor of the Prince Sultan Research Chair of Hearing Disabilities and Implantable Devices,  "I don't know how to explain it," He said after tending to the infant. "If you would have told me five years ago that we would be performing 200 procedures a year, I would have said, 'No, way.' And while the whole process of screening through rehabilitation is usually six months, we have squeezed it into two weeks."
Soon after the procedure, Rawand's elated parents noticed significant changes. They said she noticed noises, turning in the direction from where they came. She smiled and moved her lips more than any time since her birth. Even her appetite appeared to have improved.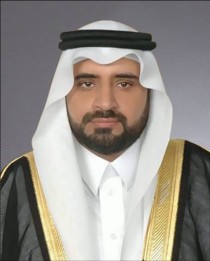 While the procedure is relatively short -- often deemed to be outpatient surgery – and requires only a small incision in the skin to insert a one millimeter thickness device, the doctor explained the risks –the age of the patient and another being that microscopic surgery requires extreme caution because there are facial nerves that must remain unscathed in the surgical area.
And infants such as Rawand pose three obstacles from screening through rehabilitation. They cannot hear. Their brain is not developed. And speech has not had any development. So far, Hagr implied, Rewand's situation was progressing without incident.
The surgery will likely benefit these delays, Dr. Hagr said, making the surgery invaluable.
This is exactly what inspired Morad Huraizat and Ala's Huraizat's tenacious commitment to finding a way of eliminating their daughter's plight and providing her a normal life. Morad Huraizat scoured the internet looking for an answer and he finally found one: a link to the Prince Sultan Research Chair for Hearing Disabilities and Implantable Devices (RCHD).
He discovered that in less than three years, the RCHD had vaulted from a small cochlear implant program to No. 1 in the Middle East and into the top five worldwide. Encouraged by these prospects, Mr. Huraizat wrote a letter to HRH Prince Sultan rather than the Prince Sultan Research Program, and after three weeks of waiting he received a positive response. The Palestinian couple wasted no times making plans to travel.
Amazingly, they acquired Saudi visas in 15 minutes, arranged for the care of four of their six children, packed their bags and departed for Saudi Arabia with Rawand and her 3-year-old brother. Between Palestine and Jordan, the travel was frantic and uncertain at times, being forced to stop at least an hour for each of five checkpoints.
In Riyadh, Ala'a would find warmth and confidence during the agonizing minutes of her daughter's surgery. "I was afraid of everything," she said, adding that doctors had informed her of the surgical risks, but she had the chance to meet with mothers whose children who had received cochlear implants, and they offered her great reassurance and advice.
As pleased as Dr. Hagr is with the surgery and Rawand's rapid response, he and his colleagues are giving her as much attention as possible, as the Huraizats are ready to return home, only two weeks after the implant surgery and one week after being fitted for the device on the outside of her head.
"They say they want to go home next week," he said, "[in fact], they said they wanted to go home last week, but I said, 'No way.' Extensive rehabilitation is needed after the cochlear implant, but she doesn't have this luxury since she is from Hebron, Palestine."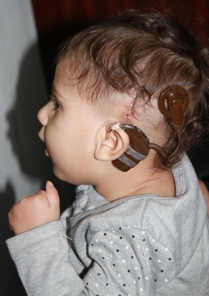 The Huraizats' early departure is unfortunate for Rawand. A small percentage of cochlear implants experience difficulties and rehabilitation is an important element in the process. But Dr. Hagr is optimistic. According to Dr. Yousef Al-Ohali, Dean of the KSU's Deanship of e-Transactions and Communications, a computer program is available to Rawand and her family – although the program was not inspired by her case.
The program is based on a Masters Degree project presented by a student pursuing her Masters degree. In 2010, Najwa Al-Ghamdi and Dr. Al-Ohali published, Rannan:Computer Based Auditory Training For Arabic-Speaking Children.' The paper describes the design and development of a computer-based aural rehabilitation therapy program called Rannan. This system targets native Arabic-speaking children who have received cochlear implants and require clinical and home-based auditory training.
The software program continued to develop after (Najwa Al-Ghamdi) graduated and eventually a team – including members of the King Saud University Department of Computer Science – was formed by Dr. Al-Ohali.
While the KSU Computer Science Department developed the software program, the ideation, implementation, and studies represent a collaborative effort between the Computer Science Department and the Prince Sultan Chair.
From the screening progress through rehabilitation, any Saudi success is a success not only for the Kingdom, but the region and world, and the Prince Sultan Research Chair for Hearing Disabilities and Cochlear Implants is stepping up its pace. The University, under the leadership of KSU Rector Abdullah Al-Othman and Vice Rector of Graduate Studies and Scientific Research, Ali Al-Ghamdi, has recently granted the Chair 50 new positions for surgery, social work, rehabilitation, and psychologists. In addition, the Director Cochlear Implant Program and Bone-Anchored Hearing Aids (BAHA) at King Abdulaziz University Hospital, under the leadership of Dr. Abdulrahman Al-Sanosi, boasts some of the Middle East's finest surgeons in the field cochlear implants.
In 2005, the World Health Organization estimated that 278 million people worldwide have moderate to profound hearing problems. Professor Adrian Davis of the United Kingdom's MRC Institute of Hearing has estimated that by 2015, the world could have 700 million people with hearing problems.
That would seem to be the spirit of this year's 10th annual European Symposium on Pediatric Cochlear Implantation in Athens, Greece.
"It will be a great opportunity to celebrate these 50 years and ponder upon what we have accomplished," Symposium speaker Thomas P. Nikolopoulus said, "as well as plan together the future developments."