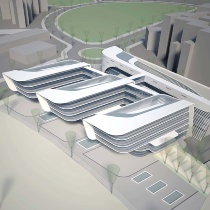 At the laying of the cornerstone for King Saud University's Prince Sultan Advanced Technological Research Institute, located in the Riyadh Techno Valley, Rector Abdullah Al-Othman emphasized that the center is integral to the Crown Prince's vision for a sophisticated Saudi defense system based on modern technology.
The institute is the result of a partnership agreement reached in 2007 between KSU and the Saudi Air Force to establish a specialized center to serve the Air Force's technological needs.
Among the other dignitaries at the cornerstone-laying ceremony were Prince Hamad bin Abdullah Al-Saud, mayor of Dariya; Major General Mohammed bin Abdullah Al-Ayish, Saudi Air Force commander and chairman of the institute's management board; and several KSU deans and senior administrators.
HRH Prince Khalid bin Sultan, assistant minister of defense and aviation, laid the cornerstone.
After thanking Prince Khalid and the Air Force for their support of the University, Rector Al-Othman spoke, pointing out some of KSU's other accomplishments, thanks to the support of King Fahd Bin Abdul Aziz, such as the RTV, the King Abdullah Institute for Nanotechnology (KAIN) and the Research Chairs Program.
He said these efforts have resulted in KSU acquiring a high international ranking and competitiveness among the world's best universities.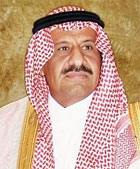 "With God's help, KSU has succeeded in attracting experts and ample funding from outside KSU, much like the King Abdulaziz City for Science and Technology (KACST)," the Rector said, adding that the Prince Sultan Institute will be housed in KSU's College of Engineering until its RTV complex is completed.
"All this effort was carried out in concert with our Air Force Command," the Rector said, adding that the university has much to gain from working side by side with Air Force personnel in research and development ventures. "Our partnership with the Prince Sultan Institute will bolster our competitiveness, regionally and internationally.
Major General Al-Ayish, a former Air Force logistics manager and former commander of King Khalid Air Base, near Khamis Mushait in the southwest, said the partnership between KSU and the Air Force will benefit to the Saudi leadership's quest for greater investment in science and technology.
The senior officer added that the laying of the cornerstone is the fulfillment of the Crown Prince's aspirations when the KSU-Air Force agreement was signed. He pointed out that the Air Force has the most sophisticated systems of advanced fighter jets, with supporting infrastructure and highly sophisticated automatic systems, and that Air Force personnel have successfully mastered highly complicated systems to fulfill their mission.
"Saudi talent and know-how have contributed to the development of the country, in alliance with KSU and advanced centers such as Prince Sultan Institute," Major General Al-Ayish said, praising KSU's knowledge-based partnerships, including the scholarship programs for students at King Faisal Air College to study electronics and communications engineering, mechanical engineering and computer engineering at KSU.
He said the Air Force has 60 students at KSU, with 30 to join soon and the same number to be added yearly.  After graduation, he said, those students will attend Prince Sultan Institute to be trained for the Air Force. Among their areas of study will be electronic warfare and aerospace vehicle control systems.
"We have been successful in building a new generation that will use science and technology to serve its country," Major General al-Ayish said. "We must look ahead 50 years in order to build a new generation."
The ceremony concluded with Rector Al-Othman signing cooperative agreements with representatives of the aerospace research companies BAE Systems, Advanced Electronics Corp., Boeing, Alsalam Aircraft Co., Swedish Saab and Augusta Bell.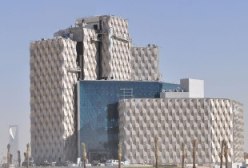 The Royal Saudi Air Force was established in the mid-1920s with British assistance and reorganized in the 1950s with American assistance. One of its fighter pilots, Prince Sultan bin Salman bin Abdulaziz Al Saud, became the first Arab, the first Muslim and the first member of royalty in space, as one of a seven-member international crew.
King Saud University's Riyadh Techno Valley (RTV) project serves to establish partnerships with the public and private sectors, and is a driving force in Saudi Arabia's efforts to build a knowledge-based economy. The science and technology park, "Riyadh Techno Valley is located on its Riyadh campus and satisfies the demands of the developing knowledge-based industries and commercialize its research outcomes. In addition to enhancing the research environment, RTV's incubation program is committed to facilitate its researchers and graduates in creating innovative commercial ideas and products, as well as creating offshoot companies.