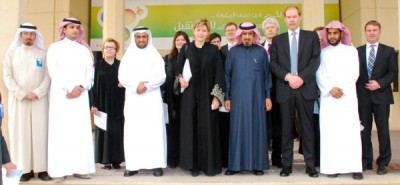 While in Saudi Arabia to discuss bilateral agreements in the education sector, Finland's Minister of Education and Science Henna Virkkunen took the opportunity to visit King Saud University's Preparatory Year (PY) College. Upon receiving the foreign dignitary and her delegation, Rector Dr. Abdullah Al-Othman and the PY Dean Abdulaziz Al-Othman accompanied them on a tour of the College's cutting-edge facilities and resources.
Dr. Virkkunen and her associates were familiarized with the PY's goals and objectives and shown an exhibit displaying the College's many activities and achievements. They were also introduced to various student organizations and student leaders and shown the PY's sophisticated such as the Resource Center for Mathematics.
The guests also had the opportunity to watch a documentary that detailed King Saud University's growing list of achievements and ambitious programs such as the Riyadh Techno Valley (RTV), the Research Chairs Program and University Endowment Program, which has been able to secure endowments in the value of $253 million out of a targeted $2.67 billion.