King Saud University recently signed a memorandum of understanding with Etihad Etisalat, the Saudi communications giant better known as  Mobily, a partnership that will link the Riyadh Techno Valley (RTV) with the national fiber optics network and extend its Worldwide Web presence.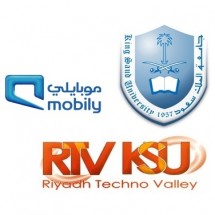 Signed by KSU Rector Abdullah Al-Othman and Mobily Chief Operating Officer Abdulaziz Altamami, the agreement was preceded by thorough studies done on RTV's unique communications infrastructure needs.
Mobily is now set to install RTV's communications system and fiber optics network, and provide unique Smart Mosque services to RTV mosques and intelligent services in all project installations.
Mobily is also designing and assessing services needed for a smart building, which will be unique to RTV administrative buildings , and provide KSU with 200 million Riyals to establish a research and infrastructure development center and training programs.
Al-Othman said that providing intelligent services in the project, especially in communications, is a prerequisite for the success of future projects. He added that developing RTV's electronic infrastructure based on Mobily's needs analyses and making the Ibtikar Tower a sophisticated buildings, is a milestone in KSU's development. Dr. Al-Othman said equipping RTV with cutting-edge equipment serves its seminal purpose of technology transfer and innovation and creativity support. He added that this agreement underscores KSU's objective of spreading the culture of a knowledge-based community by providing modern technologies and developing intelligent buildings.
Established in 2004 by a consortium led by Etisalat, the United Arab Emirates-based telecom conglomerate Mobily is the official brand name of Etihad Etisalat, which is Saudi Arabia's second biggest mobile service provider.
Related News