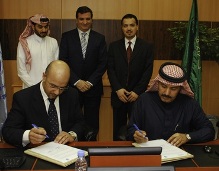 This week, an agreement was signed between King Saud University and eSolutions Saudia, which will provide professional services for the University's implementation and use of IBM's Maximo Asset Management software. The agreement was signed by the Vice Rector for Graduate Studies and Scientific Research, Dr. Ali Al-Ghamdi and Suleiman Barada, General Manager at eSolutions Saudia and IBM representative in Saudi Arabia.
Maximo Asset Management software maximizes the value of business and IT assets by enforcing best practices that yield benefits for all types of assets. Upon signing the agreement, Mr. Barada spoke about the value that IBM's Maximo Asset Management software brings the University, noting it's its importance in the areas of equipment and maintenance management, including production processes and transportation, as well as the maintenance of industrial facilities and applications of power generation, petrochemicals, telecommunications and government installations.
King Saud University will introduce the asset management software in a range of courses in undergraduate and graduate studies, including maintenance engineering and advanced research topics in maintenance management, improving students' productivity through the most advanced resources available and preparing them for the labor market.

KSU Vice Rector for Graduate Studies and Scientific Research Al-Ghamdi said that the agreement compliments the overall vision of the University, giving administration, faculty and staff resources needed to compete in a knowledge-based society and guide scientific research. Indeed, the agreement partners KSU with yet another highly innovative and internationally acclaimed company, which brings valuable resources to the University community.