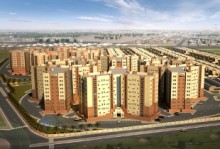 On Tuesday, February 22, in continuation of King Saud University's 1.6 billion SAR (427 million USD) faculty housing project, a contract was signed by the Kabbani Construction Group (KCG) and KSU Rector Dr. Abdullah Al-Othman to carry out phase III of the project.
After a signing ceremony, Dr. Al-Othman said, "This key step [of the project] will help create an environment for faculty that will provide families with the peace of mind of residing in a campus environment that designed for their specific needs. The project will ultimately free current and future faculty members from the worries of finding suitable housing, allowing them to focus on their research work. The new campus will also provide faculty members with easier access to libraries, workshops and labs, which is essential to excellence in research".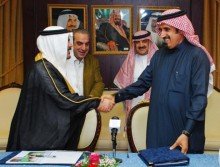 The Rector went on to say that the wise and generous Saudi leadership, particularly that of the Custodian of the Two Holy Mosques, the Crown Prince and the Second Deputy Prime Minister, realize that the Kingdom must provide the best possible accommodations if they are to attract and retain accomplished faculty who can contribute to the ambitious scientific and intellectual pursuits of the University. This, noted the Rector, is also essential for keeping up with the rising international standards of research and academics".
The KSU faculty housing project is headed by Advisor for Strategic Projects Engineer Khalid Al-Shadi and includes the planning, paving and coordination of the residential towers, as well as alleyways, streets, greens and parking. The towers have been designed to ensure privacy for all residents, with each tower having ten floors with lifts and stairways. Each building has a reception hall and student lounges.
The building's design uses a highly-sophisticated electronic system typical for modern "smart buildings" which utilizes integrated computer technology that uses data and information about a building and its environment to automatically optimize the building's operation and maintenance. In addition, modern internet and phone technologies will be integrated, providing faculty members with optimal research and academic resources.
Sensitivities intrinsic to Saudi society have been considered in the buildings' design separation of male-entrances from family-entrances. Construction and finishing will be to an outstanding degree.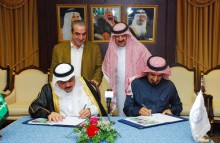 The complex is to include mosques, a mall, recreational areas and social facilities open to university members, in addition to a ceremonial hall seating 500, a library and venues for official, social and cultural events.
Kabbani Construction Group (KCG) was established in 1977 as a modest roofing contractor in Jeddah, but has evolved over the years into one of Saudi Arabia's largest sub-contractors for waterproofing, concrete repair, maintenance, oil field services, security and networking and industrial insulation. KCG currently operates in all Saudi cities as well as in UAE, Qatar, Egypt, Lebanon, and Syria.