A lecture presented by Dr. Mashael Bint Mohammed Al Saud, a researcher at the Space Research Institute in King Abdul Aziz City for Science and Technology (KACST), was held on Tuesday, February 22 at King Saud University's Olaysha Center For Girls, and arranged by the Environmental Development Unit, established by Dean Nora Al-Shaikh in October of 2010.
Dean Al-ElShiekh opened the event by thanking Dr. Al-Saud for attending, and expressed her admiration for the distinguished researcher's important studies and research, which aim to understand the interrelationship between geography and geology of western Saudi Arabia, especially those pertaining to the floods affecting Jeddah over the past few years.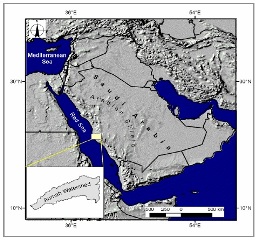 Dr. Al Saud's lecture, which explored space technology and geographic information systems (GIS) used to study the 2009 Jeddah floods, discussed a number of her research projects which have used the latest GIS satellite technology and methods to create maps and images of the complex and delicate Jeddah region. She noted that that previous geographical studies published on the Jeddah region have not used such technology, generally copying and pasting the maps from previous studies.
At the end of her lecture, Professor Al-Saud emphasized that solutions require the synthesis of resources and knowledge of different academic fields in order to overcome this disaster; otherwise problems such as the Jeddah floods will be impossible to understand and solve.
Upon the conclusion of Dr. Saud's speech, an open discussion took a place, in which faculty and students posed questions to Dr. Al-Saud.
Under the supervision of Al-Jazy Al-Hussainy, Environment Development Unit aims to spread environmental awareness in Saudi Arabia by educating students, employees and the community about environmental issues and solutions, and encouraging these groups to contribute to a sustainable healthy environment.
Dr. Mashael M. Al Saud is a prominent Saudi researcher, a member of the Editorial Board for the Arabian Journal of Geosciences and the author of many studies on Saudi Arabian land issues such as rainfall and drainage patterns, groundwater storage and seismic activities.