King Saud University (KSU) signed a memorandum of understanding (MOU) with the Free University of Berlin on Monday, Germany, for cooperation in a variety of academic and scientific fields. The agreement was signed by KSU Rector, Dr. Abdullah Al-Othman, and the Mayor of Berlin, Klaus Wowereit, and attended by KSU Vice Rector for Graduate Studies and Scientific Research, Dr. Ali AL-Ghamdi, and President of Berlin Parliament, Walter Momper, besides other Saudi and German officials.
The supervisor of International Twinning Program, Dr. Saad Al-Hussein, pointed out that the cooperation covers joint research, teaching staff exchange, visits of researchers and professors, academic and scientific consultation, consultation between governmental, private and industrial sectors, graduate student supervision, training and lecture programs as well as post-doctoral research.
The Free University of Berlin, which was established in 1948 and has diverse fields of study like the humanities, social sciences, health sciences and the natural sciences, has more than 1600 members of teaching staff specialized in a wide range of areas. A prominent feature of the university is its College of Islamic Societies and Cultures, which houses the Center of Middle East Cultural and Social History.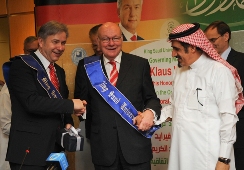 Dr. Al-Othman asserted that KSU has managed to introduce the cutting-edge teaching methods, having benefited from the incorporation with over 83 foreign universities, including German universities, such as the Max Planck Institute, and through Professor Theodor Hansch, a Nobel laureate, who is involved in the development of the fields of physics and lasers, which are now regarded as one of the most significant sciences in the world due to the multiple fields that use lasers. Dr. Al-Othman added that KSU has areas of cooperation with outstanding universities in other countries, including South Korea, China and the US, amongst others. He stated that KSU seeks development in all fields, particularly in medicine and scientific research.
Dr. Al-Othman confirmed that the objective of KSU is to develop the performance of the teaching process at KSU and realize the highest possible ranking at the international level, adding that KSU endeavors to improve the teaching programs up to the highest standard.
The Mayor of Berlin, President of Berlin Parliament along with other officials took a field tour of KSU strategic projects and facilities, including the Engineering College, Riyadh Techno Valley and King Abdullah Institute for Nanotechnology.