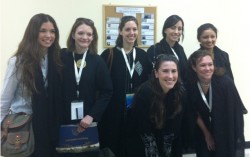 Seven female graduate students from Georgetown University were guests of King Saud University's Olaysha Center for Girls on March 6, the day after the American contingent arrived in Riyadh from Washington, D.C.
The visit, arranged by the Center's Department of Public and Media Relations, will include a seven-day tour for the American delegation which also included seven Georgetown University males.
The U.S. women's first Saudi stop was the Olaysha Campus where they met with Dr. Shadiah Shiekh, Vice Dean of the College of Languages and Translation; Dr. Mona Turjoman, Vice Dean of the English Language Department; and students from both departments.
"It was a meeting mostly for the students," one Olaysha representative said. "They discussed the educational journey in both of their universities and the opportunities Saudi female students have. The KSU studies also clarified that most of them will continue their graduate studies for the masters or start getting jobs in many different fields.
The students discussed cultural differences between their countries.
This is the second meeting between the two universities, coordinated by the Saudi Arabian Embassy in Washington, D.C. The Georgetown students presented a picture of the first Georgetown University delegation to visit approximately two months, emphasizing that the delegation informed them of the warm hospitably extended to them by the Saudis.
At the conclusion of the discussions, the U.S. students received a tour of the University Studies Center, followed by the presentation of souvenirs to the U.S. guests from Public Relations Management.
Related News