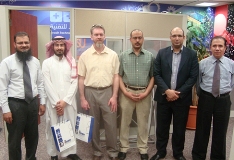 On Saturday, March 5, King Saud University's Riyadh Technology Incubation Center (RTIC) welcomed Gregory Sotzing, a professor in the University of Connecticut's Department of Chemistry and director of its IMS Polymer Program.
Received by KSU's Petrochemicals Research Chair professor Mohamed El-Newehy and Professor Mohamed Abu-Saied of the College of Science's Chemistry Department.
The visitors were briefed on KSU's various knowledge-economy innovations and technology, as well inventions currently being incubated at RTIC's faculty by KSU and students. The RTIC team conveyed the greetings of RTIC Executive Director Mezyad Alterkawi to the guests, and he expressed his hope that such visits and activities will continue for the benefit of all; in addition, the Director emphasized KSU's important role in cultivating Saudi Arabia's knowledge-based society thanks to the unfailing efforts and support of KSU Rector Abdullah Al-Othman and Vice Rector for Graduate Studies and Scientific Research Ali Al-Ghamdi.
Dr. Alterkawi said these efforts will foster a new generation of creative thinkers and innovators, whose ambition and skills will serve the Kingdom well, raising its international status to new heights in the academic and scientific fields.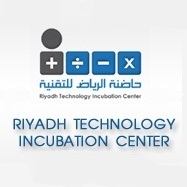 The RTIC is an advanced technology incubator established by KSU to support innovation and entrepreneurship throughout the Kingdom. The University, with its broad range of colleges, educational resources, and the latest technology, provides RTIC and its innovators with the means to excel in the fields of science, engineering, medicine and business.
Dr. Sotzing and his research teams of the Sotzing Group have developed fascinating innovations such as Making Light Bulbs from DNA, color-changing threads that may one day be used to make clothing that suits the wearer's mood or to allow a person to blend in with the environment and an "electric tongue" consisting of an array of liquid sensors (electrodes coated with conductive polymers) coupled to pattern-recognition technology that can distinguish particular flavors for taste studies.
Related News