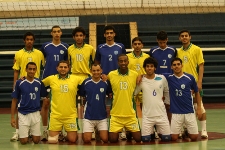 In a recent Sports Federation for Universities volleyball match, a team representing King Saud University dominated a team from King Fahd University of Petroleum and Minerals at the University.
Tarek Al-Rayes, Dean of KSU Student Affairs, was on hand to congratulate the KSU squad and its leaders for its outstanding play.
He also wished them the best for their remaining matches in the four-team competitions at the university level.
Related News