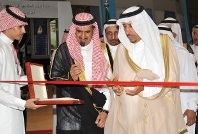 Companies and institutions from all parts of Saudi Arabia recently participated in the 2nd annual Engineering and Architecture Career Day on Saturday and Sunday at King Saud University.
The event -- under the patronage of Prince Saud Bin Abdullah Bin Thonayan Al-Saud, chairman of the Royal Commission for Jubail and Yanbu (RCJY), as well as Chairman of the Board of Directors of the Saudi Basic Industries Co. (SABIC) -- was organized by KSU students.
Prince Saud spoke at the opening ceremony, voicing his pride in joining the students for KSU's 10th annual career day.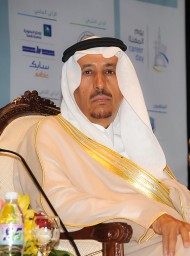 "I still remember fondly my happy days as a student in this inveterate university, which graduated so many children of the nation, armed with science and learning," he said. "They have taken top positions in the private and public sectors. This way KSU has contributed the noble objective of guiding its mother society to greatness and prosperity."
The Prince added: "Universities and educational institutions and business and private sectors complement one another, and this relationship is vital! This is reflected in KSU's concern to graduate professionals fulfilling the needs of the job market. In return, the market should provide suitable employment opportunities for the youth -- the hope of tomorrow."
The Prince asserted that career days and similar events constitute a bridge between employers and the teaching and training sectors as well as with various workforces. He said these fairs are examples of the cooperation that keeps the wheels of the economy turning, providing employment opportunities to graduates and providing employees for employers.
He called on businessmen to create suitable job opportunities to the sons and daughters of the Kingdom.
The prince added that nations rise on the shoulders of their youth.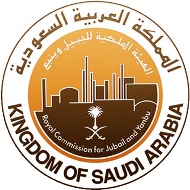 "This is why, and in line with directives from the country's leadership, the Royal Commission for Jubail and Yanbu established a training and placement program that would include employment opportunities in the industrial cities of Jubail and Yanbu," he said.
He added that commission representatives were accepting employment applications during Career Day.
Prince Saud pointed out that King Abdullah Bin Abdulaziz, Crown Prince Sultan bin Abdulaziz and Second Deputy Prime Minister Prince Nayef bin Abdulazizall have devoted their efforts to young people to provide them with gainful employment, and Career Day was just a small part of a kingdom-wide effort to help youth serve their country and help the country prosper.
He concluded by asking students to seek God's mercy in every endeavor they undertake and to work hard and serve their nation. He lauded KSU's continuing efforts to attain high educational and scientific standards.
KSU Rector Abdullah Al-Othman spoke next and asserted that the most important objective of Career Day was to activate the students' role in the training process. He was particularly pleased that the event was created and organized by students.
Dr. Al-Othman said KSU has a clear vision of its goals, namely international leadership via societal partnership, to build a knowledge-based society. He said KSU's teaching philosophy is based on two major vectors: boosting the sum of knowledge, which is achieved in classrooms, and boosting multiple skills, which relies on a number of activities and which necessitated the establishment of the Preparatory Year Deanship.
"I assure you that our College of Architecture and Planning will be competitive in international arenas," the Rector said.
He thanked SABIC for its role, including the adoption of two university projects in Riyadh Techno Valley (RTV) to grow them into incubators for innovation and excellence for students "who are not afraid of single-handedly facing the challenges of the future."
Addressing the students, he said KSU students should create employment opportunities for themselves and their colleagues. To this end, he said, KSU has created several centers to support them. They include the Riyadh Technology Incubation Center, the Innovation Center and the Prince Salman Entrepreneurship Center.
KSU also established a knowledge development and investment fund, called Tamkeen, owned by RTV company for  more than 160 million SR. He said the university strongly believes that wealth comes from educated youth and creative ideas, two commodities prevalent in KSU's student body. He said KSUY provides the money to turn these ideas into marketable commodities which, in turn, is beneficial for the development of a knowledge-based economy.
The Rector added that KSU should play a role in evolving the Saudi economy from petroleum-based to intellect-based. He added that universities today are the main engines of the world economy.
Addressing the students, Rector Al-Othman said: "You are the future of this country whose leadership has wisely devoted 27 percent of the budget to education. Opportunities are many and distinguished but will only be won by the youth who are serious, focused and capable of making the best use of opportunities.
The Prince and the Rector then inaugurated the exhibition accompanying Career Day.
The RCJY was established as an autonomous organization of the Saudi government on September 21, 1975.