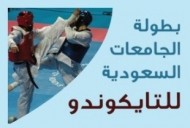 On Tuesday and Wednesday, under the auspices of King Saud University Rector Abdullah Al-Othman, the Saudi University Sports Federation taekwondo championship tournament will kick off at 8 AM.
Dean of Student Affairs, Dr. Tarek Al-Rais has expressed his excitement for the important role that King Saud University has undertaken for this tournament, as it illustrates KSU's leadership and great commitment to university athletes in Saudi Arabia. The Dean wished all participating universities happiness and success in this tournament and in all upcoming 2011 tournaments.
A gala dinner will be held for the participating universities on Wednesday evening.