An international expert in computer science recently commended King Saud University for its ground-breaking research in science and technology during a recent visit to the Kingdom.
Professor Farid Melgani, an assistant professor in the department of information engineering and computer science at Italy's Trento University and internationally recognized for his research papers and work with the Institute of Electrical and Electronics Engineers (IEEE), expressed his profound respect for KSU during a lecture to an audience that included a large cast of experts in computer science research.
The Italian professor has collaborated with the KSU ALISR since 2009, when the KSU's research arm was established under the guidance of its supervisor Dr. Naif Alajlan, and said he has derived a great deal of gratification from his association with ALISR supervisor, his faculty, and researchers. Dr. Melgani also emphasized his interest in remaining a contributor to KSU's progression in knowledge economy, a major focus for the University, KSU Rector Abdullah Al-Othman, and HRH King Abdullah.
Dr. Melgani's lecture to the large audience was entitled "Evolutionary Computation Approach to Pattern Recognitions Problems." Pattern recognition is the process used to provide reasonable answers to all possible computer input and to offer "fuzzy" matching of input, as opposed to pattern matching used for exact matches of pre-existing patterns.
The process is used in psychology, psychiatry, ethology, cognitive science, and computer science, as well medical science in which pattern recognition is the basis for computer-aided diagnostic systems.
While in Riyadh, Dr. Melgani met with Dr. Ali Al-Ghamidi, KSU Vice Rector for Graduate Studies & Scientific Research and Dr. Alajlan, in the Provost's office, where discussions included ALISR activities and pattern recognition.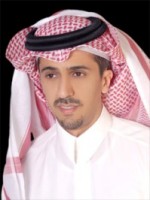 ALISR's main goal is to foster research and development of innovative intelligent systems that would contribute in achieving objectives of the National Plan of Science, Technology and Innovation of Saudi Arabia, and the development of its knowledge economy. ALISR is conducting research in areas of robotics, computer vision, pattern recognition, and assistive technology that will hopefully contribute to making Saudi Arabia and the world a safer and better place in the 21st Century.
One of ALISR projects is the promotion of NI Mine Detection Robot Design Contest with the purpose of bringing awareness to the persisting problem of landmines and cluster bombs in an estimated 76 nations worldwide, particularly in Lebanon where approximately 150 million square meters of land has been contaminated with contaminated with unexploded ordinance since 1975 – a massive 45 percent of the area still affected.
Students were challenged to design a robot capable of detecting the deadly ordinance and a KSU team presented one of the top five entries received from 42 Middle East universities. The winner will be announced sometime this summer.