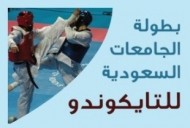 The Saudi University Sports Federation (SUSF) Taekwondo championship tournament was recently held on Tuesday and Wednesday at the University's Air Dome, under the auspices of KSU Rector Abdullah Al-Othman, in cooperation with the Saudi Taekwondo federation.
Dr. Abdullah Al-Salman, KSU Vice Rector for Education and Academic Affairs, Dr. Waleed Aldali, Chairman of the Saudi Universities Sports Federation and Dr. Abdullah Al-Baqmi, Federation Secretary General presented awards to prizewinners of each weight category.
The KSU team received the gold medal, tallying 62 points, while Umm Al-Qura University received the silver medal with 34 points. King Abdulaziz University (KAU) received the bronze with 28 points.
Dr. Aldali thanked KSU for hosting the championship and for its outstanding management of the event, which he said has been acknowledged as an unqualified success. He noted the impressive preparedness of the competing teams and their universities, adding that the championship further promotes athletic excellence and competitiveness throughout the Kingdom.
Ha Min Yu, trainer of the Saudi Taekwondo Team, lauded the high standards of the Saudi competitors, saying he will choose five among them to represent the national team. He said such competitions   contribute to the progress of the sports movement in the Kingdom.
Dr. Tarek Al-Rais, Dean of Student Affairs at King Saud University, expressed his joy at KSU's first-place win, establishing KSU taekwondo as tops in Saudi Arabia. He said the victory is the result of grueling efforts, preparation and sacrifice by team members and trainers. He lauded Rector Al-Othman's untiring support for self-actualizing activities for students, which ultimately add an indelible luster to the University's shining reputation, locally and internationally.
Related News