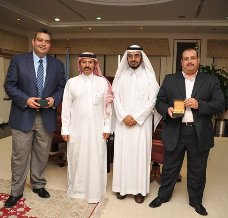 This week, Vice Rector for Graduate Studies and Scientific Research Ali Al-Ghamdi received Ahmed M. Eltawil of the University of California-Irvine (UCI) to discuss various collaborations between the two universities.
The meeting's participants explored aspects of joint cooperation in the field of wireless communications, integrated circuits and low-energy technology.
Dr. Eltawil, an Associate Professor with the UCI's Electrical Engineering and Computer Science Department, is an expert in system integration, especially for wireless systems. He leads California-Irvine's Wireless Systems and Circuits Laboratory (WSCL), which researches efficient architectures for communications systems and wireless systems such as low bit rate, ultra low power applications used in remote wireless sensing and wearable electronics. In addition, he is a member of UCI's Center for Pervasive Communications and Computing (CPCC), devoted to emerging communications technologies.
Cooperation between KSU and UCI will likely involve research in the fields of security, communications and digital medical image processing.
met with Dr. Al-Ghamdi, along with of Dean of Engineering College at Al-Kharj Awad Al-Asmari and Mohamed R. Elbahar, Associate Professor of Structural & Earthquake Engineering at College of Engineering at Al-Kharj.