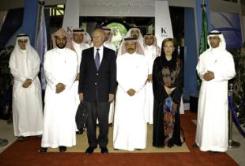 This week, King Saud University welcomed the Rector of the National Autonomous University of Mexico (UNAM) Dr. José Narro Robles, whose visit promises significant academic and research opportunities for the two universities.
On behalf of KSU Rector Abdullah Al-Othman, Vice Rector for Graduate Studies and Scientific Research Ali Al-Ghamdi received Rector Robles and a delegation of Mexican officials, and familiarized the distinguished guests with various KSU programs and buildings of note.
The Mexican dignitaries were shown an exhibition documenting notable current and developing programs at KSU, such as the King Abdullah Institute for Nanotechnology (KAIN), the Riyadh Technology Valley (RTV) campus, the Advanced Manufacturing Institute, the Prince Salman Library and the sites of other strategic projects. The tour concluded at the Preparatory Year (PY) building, where Dr. Robles expressed his admiration for the manifest evolution and progress of King Saud University and its facilities.
Prior to becoming Rector in 2007, Dr. Robles served as director of UNAM's Faculty of Medicine, published many academic articles and acted as an advisor for the World Health Organization.
UNAM, the largest university in the Americas with over 300,000 students and 35,000 staff members, is considered one of the most recognized universities in Latin America.
Related News