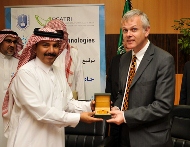 KSU has recently signed a research cooperation and joint development agreement with Agilent Technologies, aiming to create a strategic partnership between Agilent and the Prince Sultan Advanced Technologies Research Institute (PSATRI) in KSU, to support applied scientific research in the university and develop the technology in the Kingdom.
The agreement was signed by KSU Vice-Rector for Graduate Studies and Scientific Research Ali Al-Ghamdi and Agilent Technologies vice president and general manager for the European, Middle-East & Africa Field Operations Mr. Benoit Neel and the general manager and vice president of Agilent Technologies' Digital Test Division, Sigi Gross.
After the signing ceremony Dr. Al-Ghamdi expressed his happiness for the event and the choice of Agilent, represented by Modern Media Systems (MMS).
MMS is specialized in Test and Measurement systems and trains engineers to use research systems for expertise exchange and technology transfer.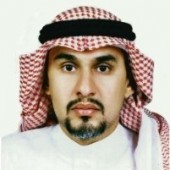 Engineer Naif Al Moammar, Agilent sales director in Saudi Arabia, said the company is considered a leader in supporting scientific research which pertains to nanotechnology and test and measurement equipment for high frequency and in all areas of communications.
The executive director of PSATRI, Dr. Sami Alhumaidi, said the Institute aims through such partnerships with leading international companies, particularly Agilent, to form a solid scientific basis to support the institute as it embarks on its advanced research to serve the Kingdom's transformation into a knowledge society and contribute to scientific progress as stipulated by the National Plan for Science & Technology in the Kingdom. He said the project will include providing and installing test and measurement equipment and building a joint plant under supervision of experts from the institute and the company to affect the transfer of modern technologies to Saudi Arabia.
Agilent Technologies, a spin-off of Hewlett-Packard Company, became a fully independent company in 1999, focusing on high-growth markets in communications, electronics and life sciences. Recognized as an industry leader, Agilent is first worldwide in the test and measurement market.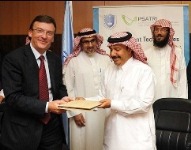 Modern Media Systems (MMS) is a core business unit of the Al Faisaliah Group, one of the most respected business groups in the Middle East. Established in 1971, MMS supplies leading Saudi Arabian organizations with high-quality high-technology products, professional engineering services and market-leading after-sales support. Its services directly support the advancement of Saudi Arabia's educational, research, defense, security and corporate infrastructure. It serves four high-technology infrastructure sectors:
Audio-Visual and Professional Broadcast
Integrated Security Systems
Test and Measurement
Telecom
Lighting
Related News