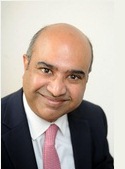 King Saud University's Biomarkers Research Program (BRP) recently received a group of international experts in genomics, including Professors Sudhesh Kumar and Gregory Gibson, as part of a series of visits by distinguished scientists. Key members of BRP, Nasser Al-Daghri, Omar Al-Attas and Majed Al-Okail, were on hand to welcome the distinguished guests, whose expertise and consultation bring invaluable resources to KSU.
Doctors Kumar and Gibson, along with BRP scientists, were members of a research team that published an April 2011 article in the distinguished scientific journal PLoS ONE regarding the prevalence of Saudi obesity, high rates of consanguinity, and the presence of other components of the metabolic syndrome (MetS). The study highlights the existence not just of individuals, but of families that show unusual combinations of cell-to-cell signaling proteins that are likely to contribute to elevated risk of chronic diseases.

Professor Kumar is a Professor with the Medicine Diabetes and Metabolism Unit at the Warwick Medical School. He is internationally recognized for his research into obesity and its complications and his research group has been recognized through several national and international awards.
Dr. Gibson is Director for Georgia Tech's Center for Integrative Genomics, a Professor of Genetics at the University of Queensland, as well as a William Neal Reynolds Distinguished Professor of Genetics at North Carolina State University. He is a leader in the emerging field of empirical evolutionary quantitative genomics, which uses genomic approaches to study how genes and the environment interact to produce quantitative variation.
Related News