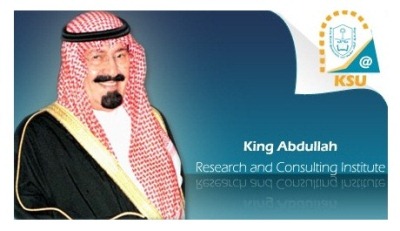 KSU's King Abdullah Institute for Research and Consulting Studies occupied a demonstration booth during April's GITEX Saudi Arabia 2011 Exhibition, revealing the University's up-to-date technologies and applications.
GITEX (Gulf Information Technology Exhibition), an annual consumer computer and electronics trade show held this year at the Riyadh Exhibition Center, is the Kingdom's leading ICT and Telecoms show. The institute emphasized the successes, the potential, and the cutting-edge technologies in use by the various KSU colleges and units such as the Deanship of e-Transaction and Communication and the Deanship of e-Learning and Distance Learning.
Visitors also discovered the work of the Center of Excellence in Information Assurance (CoEIA) and what it offers, while the institute members participated in the scientific portion of the exhibition with lectures focusing on information and communications technology.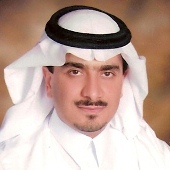 Dr. Mohamed Alharthi, Dean of the King Abdullah Institute for Research and Consulting Studies (KAI), said his department welcomes activities, local and regional, related to information technology.
"GITEX 2011 is an opportunity to support the institute's orientation in IT and its application," he said. [The Exhibition] helps showcase the products and capabilities of KSU in the IT domain and what it has achieved, besides showing the projects of major IT companies and their modus operandi."
The KAI has international partnerships with institutions and companies specialized in information technologies.
The popularity of the GITEX 2011 Exhibition, Dr. Alharthi said, reflects today's interest in IT technology and said the event – sponsored by Saudi Arabia's Ministry of Communications and Information Technology – will continue to promote progress in the IT industry. The KSU institute has signed several agreements and memos of understanding with major international IT companies, but Dr. Alharthi said the state of today's IT technology makes it incumbent on individuals and institutions to continue aggressively seeking improvements and innovations.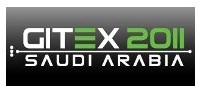 Earlier this year, the KAI of KSU participated in GITEX 2011 held in Dubai, UAE, and has been extremely active in IT, with KSU institute experts implementing many projects in IT for private and governmental institutions. The institute also organizes or takes part in other IT events.
GITEX 2011 attracts prominent companies in the Middle East, Europe, North and South America, and Asia and is held simultaneously with Saudi Communications 2011 Exhibition and the 13th International Exhibition and Conference CSTB-2011, which was adopted by the Global Association of the Exhibition Industry (formerly known as the union des Foires Internationales and still retaining its acronym UFI) and the Computer Market Exhibition.
GITEX was initited in 1981 and has been held in the United Arabic Emirates, Bahrain, and Saudi Arabia. By September 2005, the event had earned the reputation as the region's most important telecommunications exhibition.
Related News