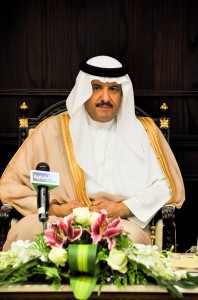 King Saud University inaugurated the Prince Sultan bin Salman Chair for Developing National Human Resources in Tourism and Archaeology in a ceremony conducted this May in the Doriyya Campus' VIP Lounge.
The chair was named for Prince Sultan bin Salman Al Saud, President and Chairman of the Board of the Saudi Commission for Tourism and Antiquities (SCTA) who presided at a ceremony attended by SCTA officials, KSU Rector Abdullah Al-Othman, KSU Vice Rectors, and Dr. Said F. Al-Said, the new chair supervisor.
Dr. Al-Said is also the Dean of KSU's College of Tourism and Archaeology.
Prince Sultan was visibly delighted by the honor of having another chair named in his honor and commended KSU for its phenomenal progress. The Prince said that KSU's success has been powered by its solid legacy of distinction, particularly in matters of antiquities, museums and the sector of architectural heritage that has become a major factor in the national economy.
The Prince also discussed the Al-Turath Foundation Architectural Heritage Chair and said the SCTA has designed a plan to establish a National Center for Architectural Heritage. King Saud University, he implied, will play a prominent supporting role.
In its quest to recruit generations of experts to energize tourism and archaeology, the Prince emphasized that KSU's College of Tourism and Archaeology faces new challenges and explained that dozens and even hundreds of archaeological sites will need trained personnel to operate them. The SCTA has planned a meeting for private museum owners -- KSU has an Antiquity Museum -- and the Prince said he hopes the KSU College of Tourism and Archaeology will participate.
Special packages will be offered to private museum owners, but he warned that archaeological preservation will be a long and demanding undertaking.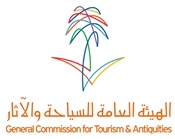 Dr. Said Al-Said thanked Prince Sultan for his unshakable support of the College of Tourism and Archaeology since its inception. He said the College has enrolled more than 30 lecturers who are now studying in Europe and the US and believes they will strengthen the College when they return. He said the Chair has become the College's strong arm, reflecting the concept of the research chairs which are a university asset in community service.
Dr. Al-Said listed some of the chair's accomplished, including :
Cooperation with the Department of Tourism and Hospitality Management in the College, it held the Second Tourism and Hospitality Meeting under the title: "Enabling Tourist Human Resources and Developing Their Professional Skills".
Presented a lecture entitled "Cultural Tourism in Italy," presented by Dr. Stefano Bonanzito and focused on the Italian experience in this domain.
Presented a lecture about using geophysics in studying and preserving archaeological sites.
Held several sessions on German language and distinguished tourist service, and on the management of patron relationships.
Prepares graduates for the job market.
The Chair plans to provide an environment which encourages the scientific research and development and promotes scientific research in the field of tourism and archeology to sustain development. Its vision focuses on achieving leadership in research and practical training. It contributes to full national development by nurturing skills in all areas related to tourism and archeology. Using the input of world experts and training sessions and workshops, the chair graduates workers to match the tourist job market needs and hones their skills and capabilities.
King Saud University has long embraced the importance of tourism as an economic growth factor. The rapidly growing demand in the Kingdom for efficient and highly qualified graduates in tourism, hotel management, archeology, heritage management, and tourism management spurred the creation of KSU's College of Tourism and Archeology in 2005. It is, therefore, one of the newest colleges in King Saud University.  It has a Research Center and three departments:
The KSU Prince Sultan Bin Salman Chair for Developing National Human Resources in Tourism and Archaeology was established in June 2009. Since its founding, it has been advising on studies for future tourist projects to reach international standards.