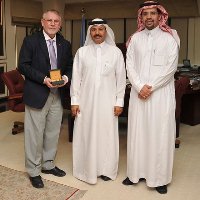 Professor John Giesy, world-renowned toxicologist and DNA authority, delivered three lectures in May while a guest of King Saud University's Abdul Rahman Al-Jeraisy Chair for DNA Research. He has been received by Dr. Ali Al-Ghamdi Vice Rector for Graduate Studies and Scientific Research
The Canadian academic, a faculty member in the University of Saskatchewan's departments of veterinary biomedical sciences and toxicology and a guest of KSU's College of Science, spoke on natural products, ecological risk assessments, and his staff's discovery of a new class of chemicals in the environment.
Professor Giesy also visited the Al-Jeraisy Chair's research lab, met the chair's research team and the senior study students and after being briefed on their work offered advice and guidance. One of KSU's newest chairs, its team of DNA researchers are focusing on genetic genotypes of various organisms, human and non-human pathogens – toxic, harmful and dangerous, or economically important.
The chair also has set its sights on the development of techniques for examination and analysis of DNA, and to develop and increase opportunities for patent filing and commercialization. The chair's objectives also include support of postgraduate studies and specialized training and consultation and technical services for the public and private sectors.
In Dr. Giesy, KSU enlisted a quintessential world-eco-toxicologist. In addition to his full-time role as a University of Saskatchewan professor, the native Ohioan is chair professor at large in biology and chemistry at City University in Hong Kong and concurrent professor of environmental science at Nanjing University and a guest professor at Xiamen University, both in China. In 2010, he was elected to the Royal Society of Canada (RSC), the senior national body of distinguished Canadian scholars, artists and scientists.
His recent speaking engagement in Saudi Arabia was his first trip to the Kingdom.
Dr. Giesy has published more than 750 peer-reviewed articles, presented more than 1,500 lectures and is the second-most cited author world-wide in the combined fields of ecology and environmental sciences. He has lived in primarily in North America, the United States and Canada, Europe, and Asia where he presently is living part-time in Hong Kong.
Related News