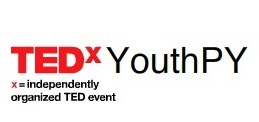 On Saturday morning of May 28, King Saud University Rector Abdullah Al-Othman presided over the 2011 end-of-year activities at the Preparatory Year (PY) College, held in the university's Hamad Al-Jasser Hall. This year's event, dubbed TEDx Youth PY, was unique in that it was a TEDx event, a internationally celebrated program designed to give communities, organizations and individuals the opportunity to foster learning, inspiration and wonder.
TEDx Youth PY consisted of a number of live presentations by current and former PY students who talked about their inspiring experiences and successes at the College, particularly dealing with community outreach, volunteerism and general social issues and challenges related to their generation. Below is a sampling of the 2011 TEDx Youth PY student presentations:
Yazeed Al-Dogyan talked about the experience of knowledge and reading through commitment.
Abdulrahman Al-Rashed exposed some failed life experiences pertaining to choosing a study major and a path in life.
Abdulrahman Al-Ansari's address revolved around spreading the culture of volunteerism among the youth.
Mohammad Al-Ghamidi, a special-needs student who won the top prize at the annual Scientific Conference for Students of Higher Education for his documentary film, presented a speech entitled "Through Labor, to the Top". He received repeated applause throughout his moving presentation, which urged society to have confidence in special-needs individuals, who are fully capable of competing and succeeding, and can certainly achieve much that the physically fit cannot.
Ibrahim Jabhan talked about his experience in turning the concept of recycling into a sustainable custom.
Abdullah Al-Tabbash addressed the culture of the smile and the brotherhood of humans.
Reading and cultural interest were the subjects of student Sultan Al-Mahyoub's address, while student Sultan Al-Maliki reviewed the success story of a thirteen-year old boy who wanted to become a successful journalist.
Ahmad Al-Maliki talked about the challenges one must overcome to achieve highly ambitious goals, a process which he called the impossible game.
Omar Al-Koaid spoke about the importance of spreading the culture of innovation, asserting that any individual can become an inventor of novel ideas and technology.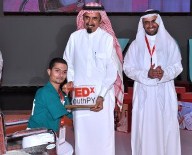 The event concluded with a summary of the Preparatory Year College's successes since its establishment in 2007. An audio-visual summary was presented by PY Dean Abdulaziz Al-Othman, who described the College's various stages of development and the challenges it has faced, such as completing PY buildings on schedule and attracting educators of excellence.
Dr. Al-Othman discussed the program's successes and the positive impact it's had on KSU students. He said that through quality teaching methodologies and a more appropriate study atmosphere, first-year students have been better prepared for their university studies. He added, however, that the onus for success remains first and foremost on the student.
TED (Technology, Entertainment, Design) is a nonprofit program devoted to "ideas worth spreading". TED hold two annual conferences in Long Beach and Palm Springs each spring, while the TEDGlobal conference is held in Edinburgh, Scotland in Britain each summer,
The program for franchised TEDx events, such as TEDx Youth PY was "created in the spirit of TED's mission, "ideas worth spreading", designed to give communities, organizations and individuals the opportunity to stimulate dialogue through TED-like experiences at the local level.