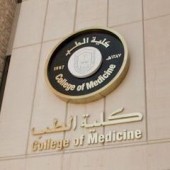 When Ellen Rhoades was invited to preside at King Saud University's  Auditory Verbal Therapy (AVT) Seminar, the internationally-acclaimed AV therapist, mentor and administrator welcomed the opportunity to participate in the Middle East's inaugural AV certification program.
It was only after she signed the agreement to participate in the June 25-29 event that she realized the extent of the serendipity steeped in her decision. Not only would she part of a breakthrough AV event in the Middle East, but join with an institution that has a lofty international standing and a major commitment to its medical program.
"Once I learned that it is a pre-eminent university in that region, I was delighted, and I'm looking forward to working with them," Rhoades said several days after returning from a similar seminar in South America. "I'm very pleased. What a neat thing to it will be to have certified individuals in the Middle East . . . I don't believe anyone is certified in that area.
"And while the original thinking behind the seminar was to have 30 to 40 participants, I'm told they are expecting more than 100 participants and some of them are coming from other countries."

The five-day AVT seminar, chaired by Dr. Hanan Alzahrani and the product of 12 months of planning, will feature a trio of American speakers including Rhoades, a veteran of more than 40 years in the field; Sally Katsaggelos, a certified AV therapist who was mentored by Rhoades; and Kerry Roesch, a director of North American sales for a company that provides hearing devices.
The training program, organized by KSU's Dr. Alzahrani, Dr. Khalid Al-Malki and Dr. Abdulrahman Hagr, has nine major objectives to be addressed in 20 presentations, each an hour and a half. The daily sessions will run from 8 a.m. to 4 p.m., ending with a brief test administered at the end of each day in main auditorium of College of Medicine. The majority of those scheduled to attend have degrees in or related to speech-language pathology, some having earned master's degrees and a handful of Ph.Ds.
"If they attend the entire program they will receive certificates that state they have 30 hours in AV continuing education that will apply toward ultimate AV certification," Rhoades emphasized. "But this is just a start."

Rhoades has no statistical data to predict how many participants will go on to attain fully certified status. The overall AV certification process requires approximately 80 hours of continuing education, followed by a three-year practicum under the direction of a certified AV mentor. Once the designated certified hours are acquired and the internship is completed, candidates must take an exam sanctioned by the Alexander Graham Bell Association's Academy for Listening and Spoken Language, a Washington D.C.-based organization.
The KSU seminar's headline speaker would love nothing more than to have all 100 participants complete the program. She and Katsaggelos are two of only about 500 certified auditory-verbal therapists internationally, left to deal with the world's No. 1 disability. International health organization estimates of the hard-of-hearing and deaf population range from 300 to 600 million, with one organization predicting the number to reach 900 million by 2025. Among tools used for disabilities, only the cane stands ahead of hearing devices.
When asked if twice the certified number of mentors would meet the world's needs, Rhoades implied that there still would be too few to care for the needs of so many. "We need to have way more than that," she said.
Rhoades said, however, that the momentum grows every year, assisted to some degree by academia and medical technology. Nearly a dozen U.S., Canadian, and Australian universities offer post-graduate programs and continuing education classes related to the AV field. Since the Federal Drug Administration approved the cochlear implant in the mid-1980s, the revolutionary operation has provided the AV profession a boost in visibility and viability.
In fact, the cochlear implant surgeries completed by KSU medical staff were possibly the impetus for the AV seminar, a breakthrough that makes the university fertile ground for AV practitioners. Rhoades knows for certain that the AV profession is a necessary complement to any successful cochlear implant program.
"Any good surgeon can implant a cochlear implant," she said, "but that's just one phase. You need a good audiologist to map the implant's speech processor. No matter how well the processor is mapped, when you are dealing with children who were deaf before they were implanted, they were once deaf and their brains were wired in a certain way. Their brains need to become rewired so they become auditory brains.
"Their auditory neurons have become visual neurons and it takes a skilled AV practitioner to implement an effective intervention program so the children can learn to listen and communicate in their native language."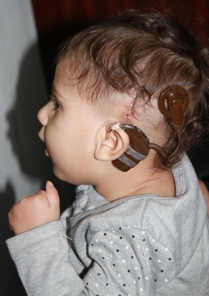 The KSU seminar is one of approximately 100 conducted annually, with Rhoades participating in a couple dozen each year and consulting in others. The accredited seminars are valuable to the serious candidates who are accumulating the required hours to reach the next phase of certification. And for many participants, accredited or not, the seminars provide prospective candidates a look at the benefits and the challenges involved in implementing AV intervention.
Rhoades knows a lot about the AV process from beginning to end. She was born a hearing-impaired infant who, in the 1940s, was among the first wave of children to receive a transistorized hearing aid. In 1996, after losing her residual hearing, she had to give up her hearing aid and received a cochlear implant while continuing her career. She knows the importance of the certification process, but believes the candidates' first seminar gives them an idea of whether they want to commit.
"For me, certification is just a piece of paper," she said. "The more important thing to me is that if you are going to go through all this effort, if you are willing to jump through hoops to become certified, then you are serious and know that when all is said and done you understand how comprehensive AV rehabilitation is.
"Rehabilitation is not just a few weeks. Rehabilitation is a multi-year process."
King Saud University has briefly discussed establishing a long-term agreement with Rhoades and Dr. Alzahrani has expressed a sincere interest in attaining AV certification. Rhoades has expressed a profound respect for the venue, but  isn't certain just what type of commitment the practitioners are willing to make.
"I told them, 'Let's just take it one step at a time right now,'" she said. "We did come to an agreement that I'll mentor them toward their certification, but no details have been settled."
No challenge has seemed too large for either KSU or Rhoades. The university enrollment and its colleges have been growing exponentially since its doors were opened in 1957 and, concurrently, Rhoades has become an internationally well-respected AV practitioner since been born deaf. The match seems to have the makings of a sure winner for the university and the international AV field. For complete schedule of workshop  please Click Here
Related News