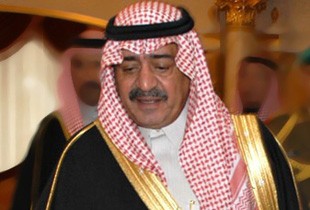 Prince Muqrin Bin Abdulaziz, Saudi Intelligence Chief, has signed a $5.3-million agreement with King Saud University to establish a program for the University's Information Security Research Chair – in collaboration with the King Abdullah Research and Consulting Institute – to conduct studies on research, advisory and scientific services.
The Chair's purpose is to acquire advanced knowledge in information security technology to help provide reliable e-transaction in security and non-security domains and to provide quality and comprehensive transactions at local and international levels. All efforts will be made to stay abreast in the quest to strengthen information security, with all information to be placed in a database that can be used to enhance the e-transaction process.
The Chair has a significant list of object of objectives. They include:
*Implementation of a program to promote security consciousness and awareness among citizens and emphasizing the importance of the situation.
*In addition to compiling a security database, the Chair will draft studies and research projects devoted to security advances in developed countries, preparing field studies of the Kingdom's existing security status and anticipating future security needs.
*Organization of a program to expand security expertise manpower and strengthen experts ability to protect national attributes and consolidate national information security.
*Establishment of partnerships between local and international leaders in information security, achieving complementarity and accrued efficiency.
*Construction of a stellar national scientific infrastructure in information security. The project would include advanced laboratories equipped with top equipment to generate state-of-the art international research.
*Organization of an information system between the Chair and officials in both government and the private sector.
Achievements of the Chair:
1. One of the KSU Chair's moves came during early summer of 2009 in Beijing where KSU Rector Abdullah Al-Othman signed an agreement with the Chinese National Laboratory for Information Security, the Chinese laboratory being affiliated with the prestigious Chinese Academy of Sciences.
The agreement represented a milestone for KSU and Saudi Arabia in that it made the Kingdom only the eighth country world-wide to have an agreement with the Chinese Laboratory – Saudi joining the United States, Russia, Japan, Canada, Australia, South Korea, and Singapore. The agreement also was a significant breakthrough for International Information Security Chair, which became the first KSU Chair to establish an international partnership.
The agreement was signed by in the presence of KSU rectors led by King Abdulaziz, Saudi ambassador to China Yahya bin Abdul-Kareem, and Dr. Salih Al-Sagri, Saudi cultural attache' Dr. Salih Al-Saqri.
The Chair will contribute an international information transfer and distinguished expertise supply and the exchange of visiting faculty and researchers. The KSU Chair and the lab will also share in joint research projects, supervision of senior studies students and cooperation in post-doctoral research in information security.
The Chinese National Laboratory for Information Security is the only one in China which earned this title because of its research distinction. The lab has received more than 20 scientific awards, published more than 1,600 research papers in international journals, published more than 70 books, carried out more than 300 national projects, nationally and regionally, for information security including encryption, e-protection, digital certification, network security, facing up to the dangers threatening information security.
The laboratory has also acquired intellectual rights patents for more than 20 software programs in information security and has acquired dozens of local, regional and international patents. The Chinese facility employs more than 350 doctorate holders, 193 Ph.D and masters' researchers and numerous visiting scientists.
2. The KSU delegation, led by Vice Rector Abdulaziz Al-Ruwais, visited Saudi Telecom. They were received by Thamer Al-Utaibi, vice president for the network sector, and took part in a workshop in which they were presented a briefing on the company's involvements in technology and its future plans. Discussions included venues of cooperation and the creation of teams from both parties to study potential joint endeavors.
After the workshop, the visiting Saudis visited the network control center and were briefed on work procedures and modern technologies in use and debugging solutions. The delegation also toured the research and development lab and inspected its advanced equipment reflecting the advance technologies of the network.
The visit was within the Chair's activities to establish links with regional companies and in implementation of its corporate social responsibilities ethics.
Publication in International Journals
Aneel Rahim, Zeeshan Shafi Khan, Fahad Bin Muhaya, Muhammad Sher, Muhammad Khurram Information Sharing In Vehicular Adhoc Network,, International Journal of Computers, Communications & Control, March, 2010 (Accepted)

Aneel Rahim, Fahad Bin Muhaya, Zeeshan Shafi, MA Ansari, Muhammad Sher, Enhanced Relevance Based Approachfor Network Control, Informatica, Feb 2010 (Accepted)

Aneel Rahim, Fahad Bin Muhaya, Muhammad Sher, Zeeshan Shafi, Imran.

Ahmad, Performance evaluation of broadcast techniques in VANETs, ​​Oct 2009,

Zeeshan Shafi Khan, Khalid Rashid, Fahad Bin Muhaya, Qutbuddin, Aneel Rahim, Realization of Call-Back Authentication (CBA) for secure web to cellular phone SMS communication, Computers and Mathematics with Applications, In Press 25 Feb, 2010

Lo'ai Tawalbeh, Qasem Abu AL-Haija, Adnan Gutub, Fahad Bin muhaya, Speeding up Elliptic Curve Cryptography Computations By Adopting Edwards Curves Over GF (p), International Journal of Security (IJS), Malaysia, 2010
Participation in International Conferences
Aneel Rahim, Zeeshan Shafi Khan, Fahad bin Muhaya, Performance evaluation of video streaming in Vehicular adhoc network, International Workshop of Wireless and Network Security WNS, Japan, 23June 2010.

Zeeshan Shafi Khan, Aneel Rahim, Fahad bin Muhaya, A Mechanism for Handling Internal Threats of IMS Based Push to Talk and Push to Multimedia Service, International Workshop on Advances in Multimedia Security, (AIMS 2010), Korea, May 2010.

Aneel Rahim, Fahad bin Muhaya, Impact of Malicious Node on Broadcast Schemes, SecTech 2009, Dec 2009

Fazl-e-Hadi, Fahad Bin Muhaya, Yasir Habib, DPMM: A Novel Mobility Model for Delay Tolerant Networks, IEEE-ICCAE, Singapore.

Date: 2010

Fazl-e-Hadi, Fahad Bin Muhaya, Shakir Ullah Shah, Secure User Authentication in Multimedia Systems, International Journal of Security (IJS), Malaysia, 2010.

Tamleek Ali, Mohammad Nauman, Fazl-e-Hadi, Fahad bin Muhaya, On Usage Control of Multimedia Content in and through Cloud Computing Paradigm, IEEE-FutureTech, Korea, 2010

Fazl-e-Hadi, Fahad Bin Muhaya, Atif Naseer, Secure Multimedia Communication in Wireless Mesh Networks, Submitted to IEEE-MUE, Philippines, 2010

Heru Susanto and Fahad Bin Muhaya, Multimedia Information Security Architecture Framework, AIMS, Korea, 2010

Hanan Mahmoud, Fahad Bin Muhaya, Alaaeldin Hafez, Lip Reading Based Surveillance System, AIMS, Korea, 2010.

Ziyad S.

Al-Salloum, Stephen D.

Wolthusen, Semi-Autonomous Link Layer Vulnerability Discovery and Mitigation Dissemination, International Conference on IT Security Incident Management and IT Forensics, Stuttgart, 2009.

Ziyad S.

Al-Salloum, Stephen D.

Wolthusen, Security and Performance Aspects of an Agent-Based Link-Layer Vulnerability Discovery Mechanism, Fourth International ARES Workshop on Secure Software Engineering (SecSE 2010) Poland, 2010

Lo'ai A.

Tawalbeh, Fahad Bin Muhaya, Ahmad Qaiser, Wafaa Kanakri, Special Purpose ALU Over GF (p

k

) Using The {2

m

-1} Primes For Elliptic Curve Computations,

Fahad Bin Muhaya, Saad Haj Bakry, An Approach for the Development of National Information Security Policies, STS International Conference on Communication Technologies, STS International Conference on Communication Technologies, Riyadh, 18-20 January 2010